Shopify is easily the largest eCommerce platform you can get. If you want to start an online store, it is the preferred option.
But there are other eCommerce platforms you can pick, some of which are better than Shopify, given how they specialize. Some of them are free alternatives to Shopify, so it's crucial to explore your options.
If you need help exploring the best Shopify alternatives, this article is built to give you a closer look. So if you want to build an awesome eCommerce store but don't want to use Shopify, check out these 14 alternatives.
Shopify Alternatives – Quick Summary
Below is a quick summary of what we are going to look at:
Adobe Commerce – best for mid-sized businesses
BigCartel – best for artists
BigCommerce – best for scaling businesses
Ecwid – best for social sales
Nexcess – best for flexible hosting
Prestashop – best for entry-level use
Sellfy – best savings opportunities
Shift4Shop – best hands-on customer service
Square Online – best for physical stores
Squarespace – best for website design
uCraft – best free online store
Volusion – best with SEO tools
Wix – best for deep customization options
WooCommerce – best for WordPress sites
Zyro – best low-cost online store
1. Adobe Commerce – The Best for Mid-Sized
Businesses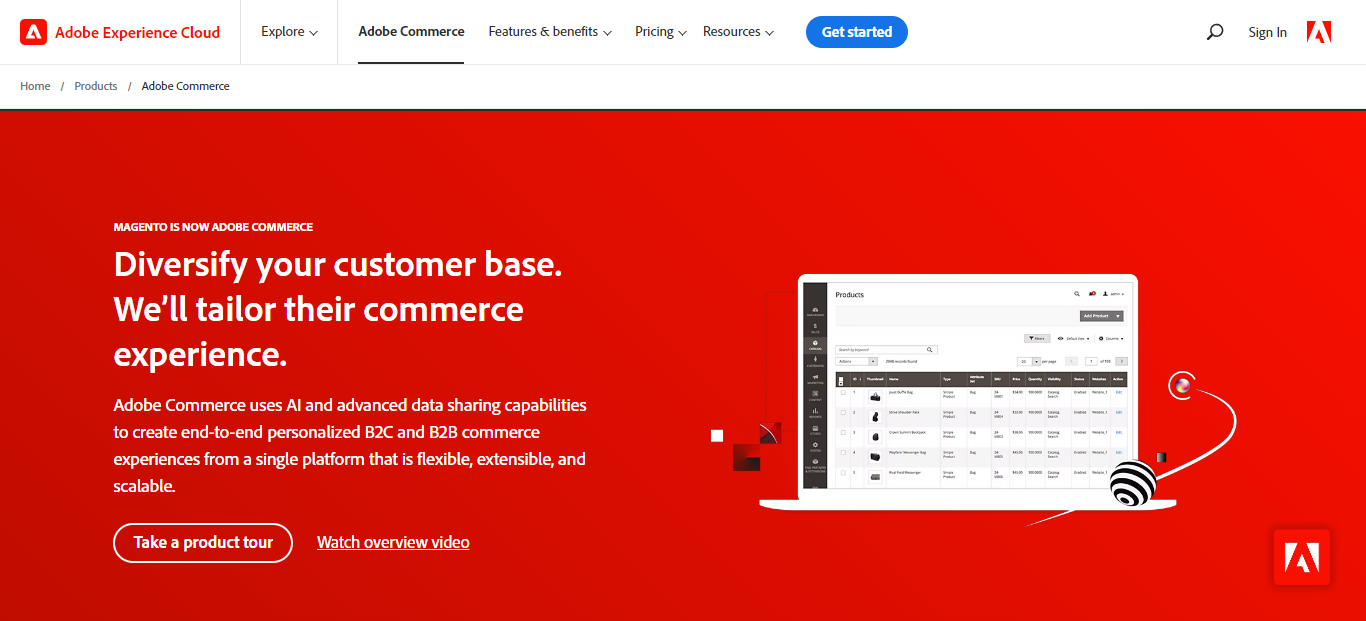 Summary
Adobe Commerce, previously known as Magento Commerce, was an open-source software. After Adobe purchased the software, it underwent significant renovations, including the name. Check out our Magento tutorial for how to use it.
Adobe relies on its strong web reputation to attract customers. Because of this, you need to contact their customer support to get details. One detail that becomes apparent is their above-average pricing, making this tool ideal for larger businesses. For example, the Nintendo Store is built on Magento.
Despite being built for a smaller audience, the Adobe eCommerce dashboard is still pretty simple.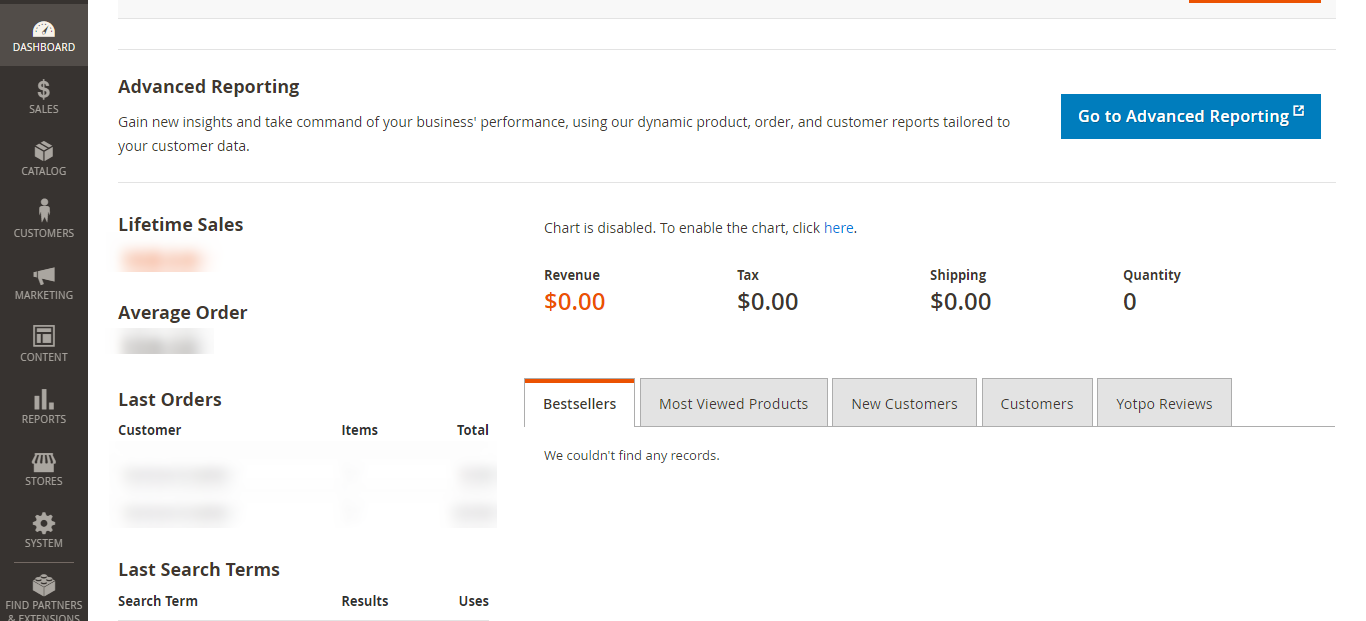 It's simple to track customers and sales, dividing inventory management between different areas. Business owners who own multiple physical locations will find this feature handy.
Page building has a higher-than-average learning curve but is pretty robust once you get used to it. Still, this is one area where Shopify beats Adobe, as it's much easier to visualize an online store.
Where Adobe excels is its overall offering. It also includes marketing tools with email templates, newsletter management, and management of user content (reviews).
Adobe Commerce also has a deep marketplace that lets you find partners to assist you in web development or shipping.
plans & pricing
Pricing starts at an annual rate of $22 thousand annually. However, depending on your needs, you can end up paying up to $50 thousand. Adobe does not offer monthly pricing.
pros & cons
Pros
No monthly pricing
The dashboard is simple and engaging
Powerful tools for both page building and integration
Cons
High upfront costs
It does not include the cost of hosting
2. BigCartel – The Best For Artists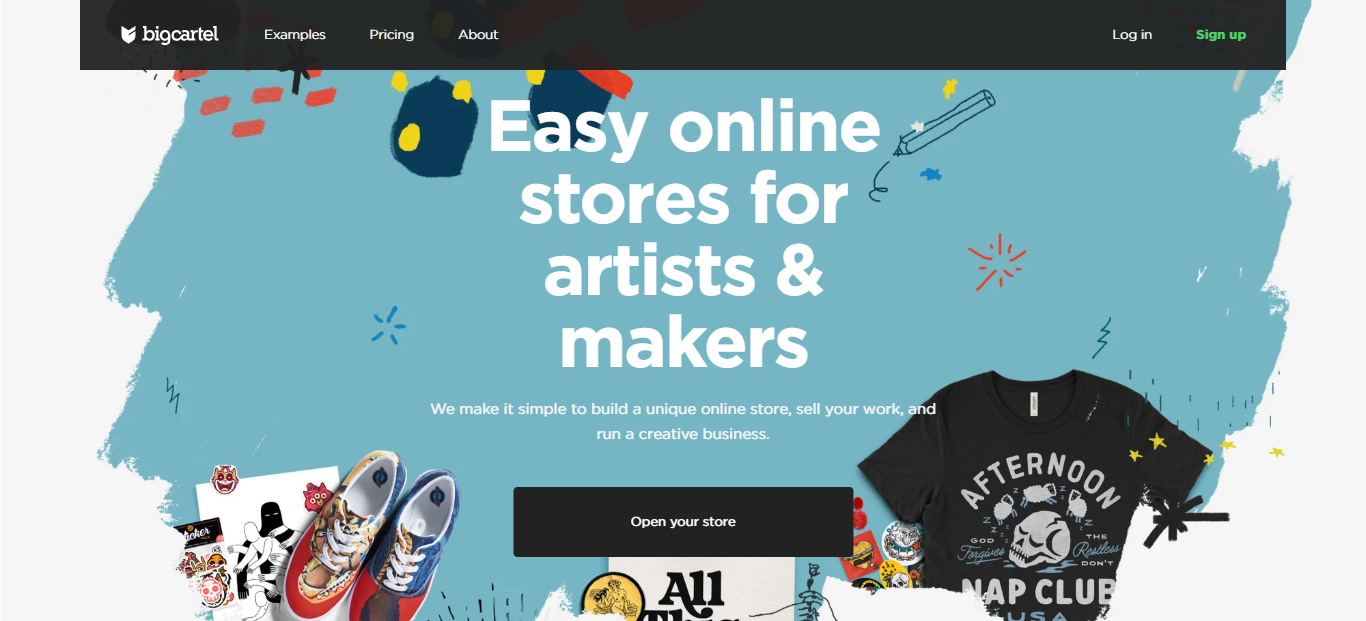 Summary
BigCartel is seen as the ultimate platform for creatives. Compared to other eCommerce platforms, this one is built for those who want to sell their art or unique style.
BigCartel's biggest draw is its free plan. The free version lets you list five products, which isn't much but good enough to learn how the platform works. Alternative plans aren't that much more expensive, as you'll see in our pricing section.
Bein an inexpensive platform also means that BigCartel focuses on simplicity, which you can see from its dashboard.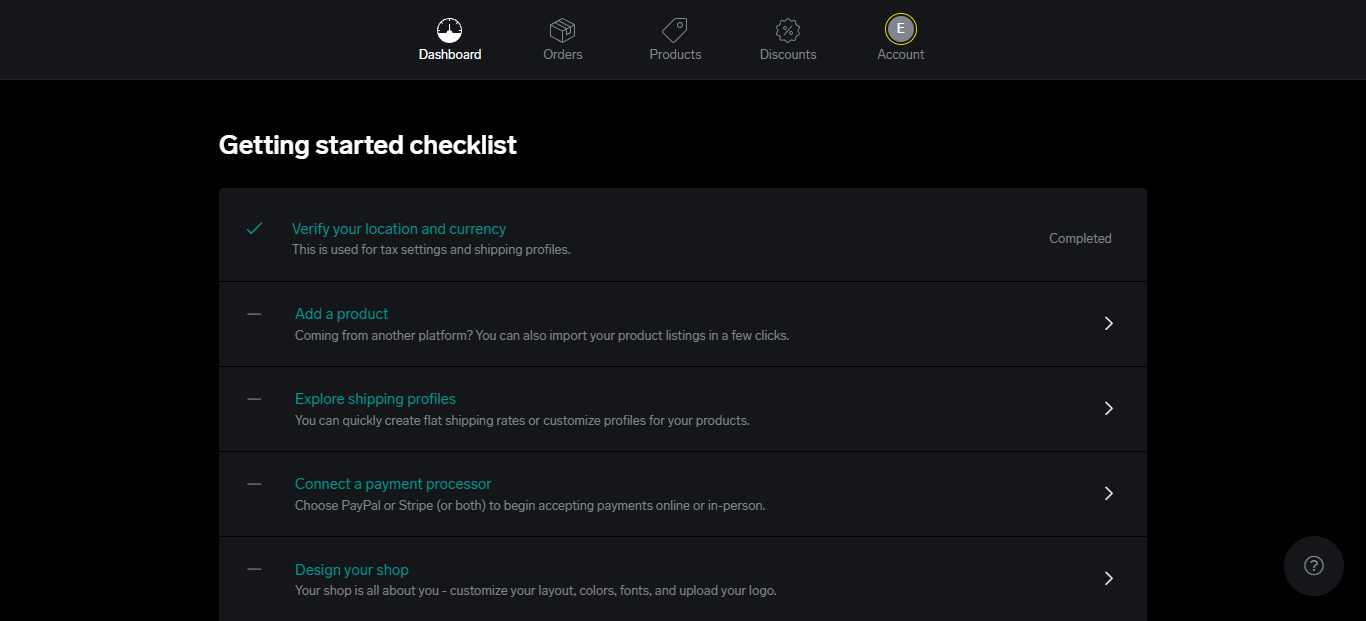 The dashboard breaks things down into five areas. Adding your products and discounts is incredibly simple. Compared to Shopify, BigCartel has fewer options for customization.
The page builder can be found underneath your account link. You can create new pages from the page builder, switch your theme, and add custom code (if you paid for a premium account).
Those not familiar with page-building tools might find it a bit overwhelming. They could stand to include a built-in tutorial with the building tool.
If you are looking for the most eCommerce features, you won't find them with BigCartel. Instead, their specialization makes them uniquely useful for creative sellers.
plans & pricing
BigCartel breaks its pricing into three areas:
Free – Five products – Real-time stats, a custom domain, and customizable themes.
Platinum – 50 Products – $9.99 per month – five images per product, shipment tracking, theme code editing, bulk edition, product variants, and inventory tracking.
Diamond – 500 Products – $19.99 per month – Everything with the Platinum Plan.
pros & cons
Pros
Free version available
Built for creative sellers
Inexpensive premium plans
Cons
Not as flexible for some products
Page customization can be difficult for beginners
3. BigCommerce – The Best For Business
Scaling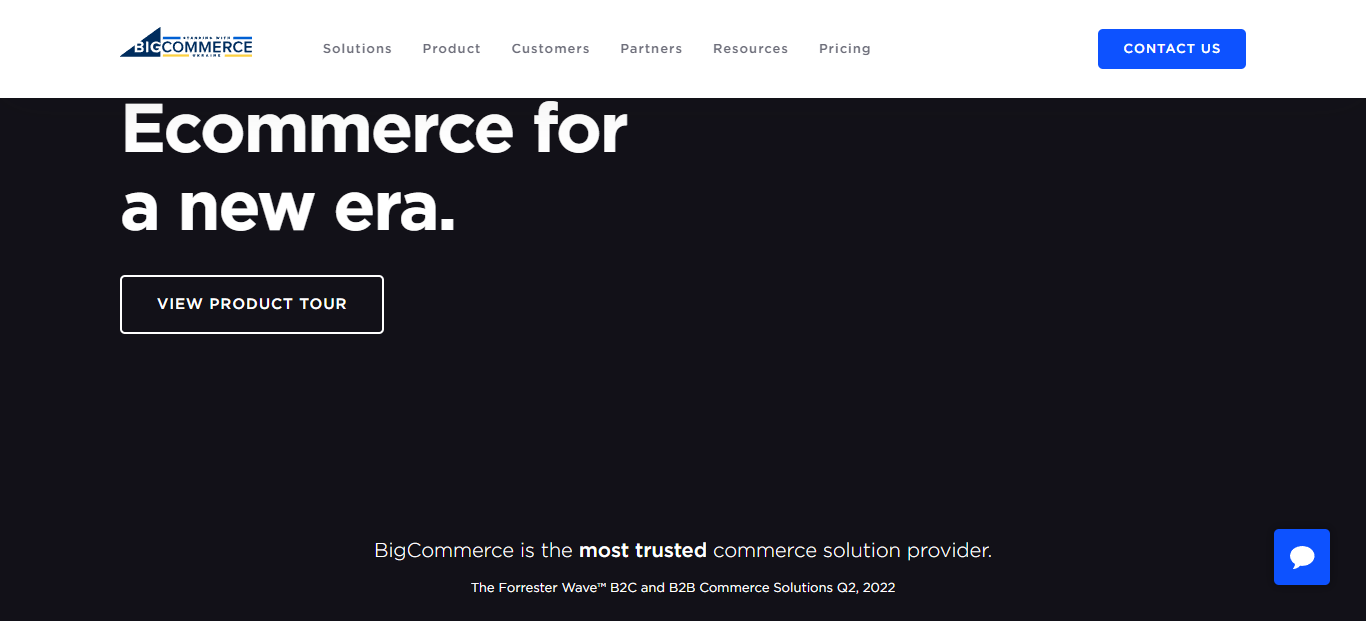 Summary
BigCommerce was founded in 2003, making it one of the older eCommerce platforms. With this in mind, it's another well-established alternative to Shopify. Check out our BigCommerce review for more details on how it works.
Those who want to start an eCommerce business will find a lot of power behind BigCommerce. Some of its most powerful elements include marketing features.
For example, you can automate both transactional and abandoned cart emails. Both of these have been shown to increase your sales, which makes them a must-have feature in any eCommerce platform.
Simple things, like adding products, are also straightforward with BigCommerce.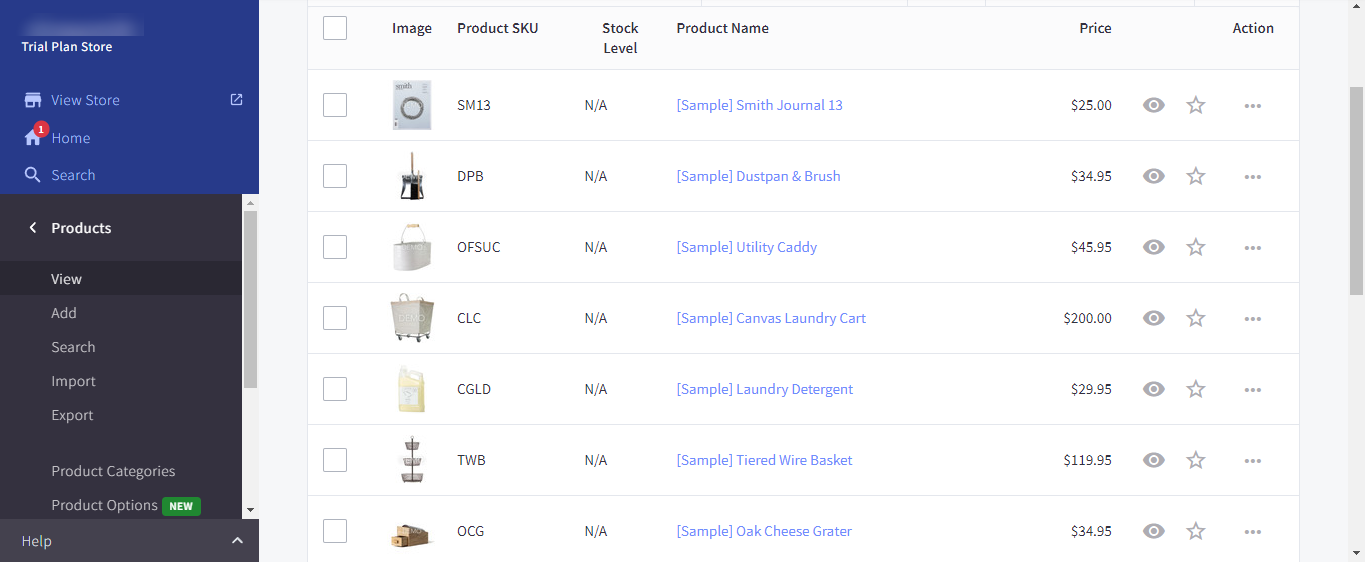 BigCommerce is the closest alternative to Shopify in how it's built. It even has its own app store, which many stores don't.
The only problem with BigCommerce is that it doesn't have a "Lite Plan." So, overall, BigCommerce is more expensive than Shopify.
plans & pricing
BigCommerce requires you to make an account to learn about pricing. Thankfully, I've done that for you:
Standard – $29.95 per month – Support for up to $50 thousand in sales, supports multiple sales channels, discount codes, and a full-featured online store.
Plus – $79.95 per month – Support for up to $180 thousand in sales, abandoned cart saver, customer segmentation tools, Google customer reviews, and product filtering tools.
Pro – $299.95 per month – Support for up to $400 thousand in sales and everything else.
pros & cons
Pros
Easy to get started
Free trial available
No additional transaction fees
Cons
A 15-day trial is not enough
Advanced features are hidden behind a higher paywall
4. Ecwid – The Best For Social Selling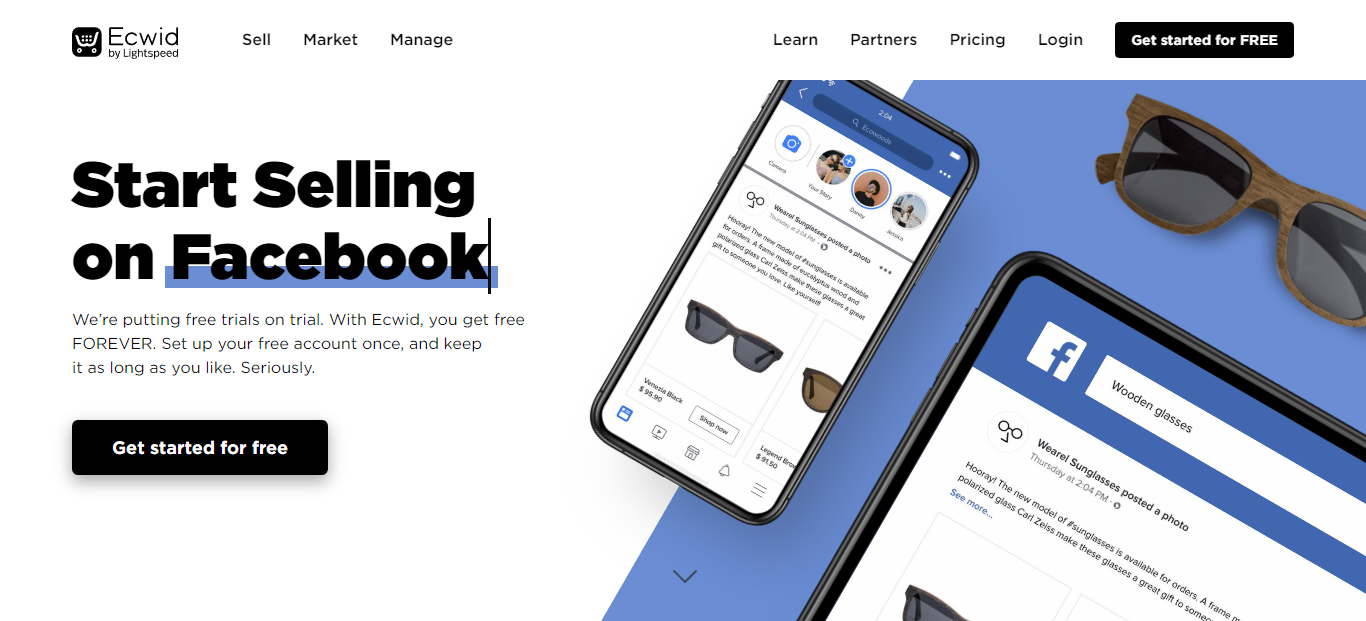 Summary
Ecwid by Lightspeed is a unique platform focusing on social sales. It integrates with platforms like Facebook, Instagram, and TikTok. Among different Shopify competitors, it is one of the few that focuses on this area. For a closer look, look at our Ecwid review.
Ecwid is built for multi-platform sales. Integrating your platform with third-party marketplaces like Amazon and social sites like Instagram makes this one of the more flexible platforms.
The only problem is that Ecwid is not a hosted eCommerce platform. Instead, you need to have another web hosting platform, like WordPress. Because of this, you'll end up paying more for this online store than for other eCommerce platforms.
Still, Ecwid's control panel and product catalog are separate from those page-building platforms.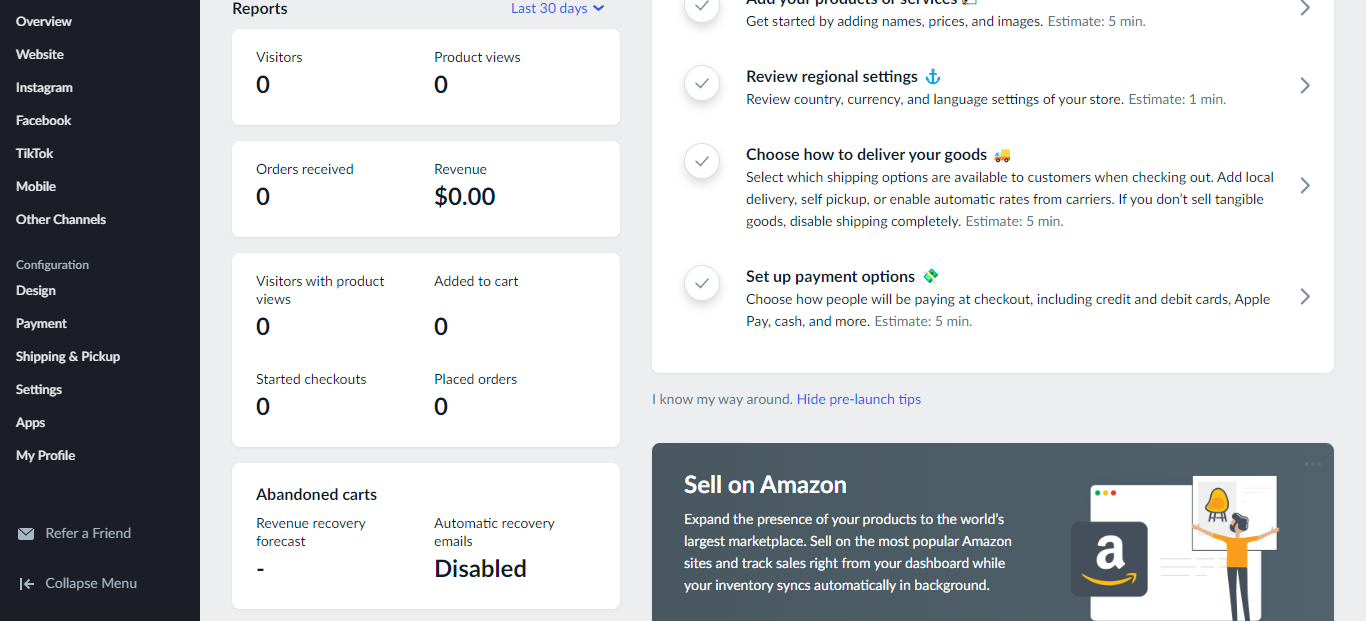 Overall, Ecwid is unique in its multi-channel approach. It is also straightforward to use.
plans & pricing
Ecwid's pricing is broken down into four areas. This starts with a free plan, something not all eCommerce platforms provide. These all include a 25% yearly discount.
Free – Limited features to get started with your online store.
Venture – $14.08 per month – 100 products, sell on Instagram and Facebook, sell digital goods, and access to the app market.
Business – $29.08 per month – 2500 products, sell on Amazon and eBay, subscription-based sales, and an abandoned cart saver.
Unlimited – $82.50 per month – unlimited products, sell via branded mobile app, sell-in-person (POS integration), and unlimited staff accounts.
pros & cons
Pros
Excellent social integration features
Great if you have an existing website
Can integrate our store into multiple websites
Cons
No lite plan is available
Free plan limits to 10 items
Basic SEO tools
5. Nexcess – The Best Hosting Platform for
Online Store Flexibility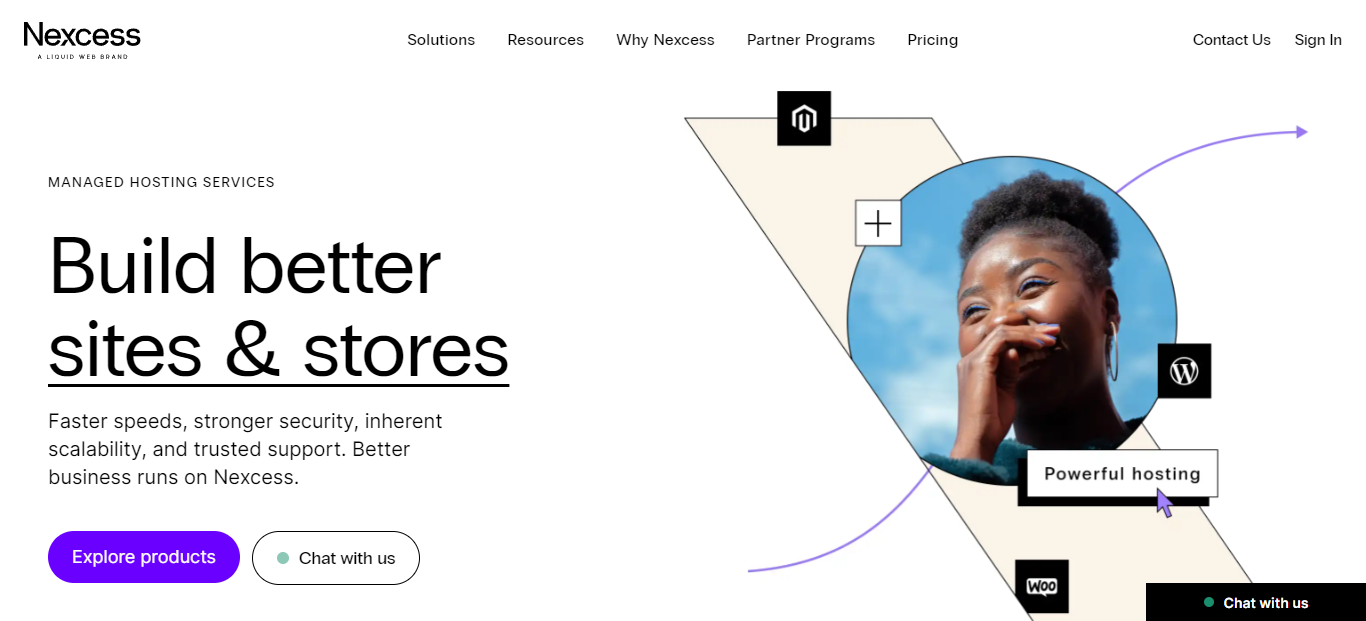 Summary
For a more flexible Shopify alternative, Nexcess is a likely solution. This is because, unlike other store-building platforms, Nexcess is a web host.
This web hosting platform supports a wide range of different building tools. Here's a short list of your options:
WordPress
Magento
WooCommerce (requires a WordPress site)
You can also get unaffiliated cloud hosting, letting you integrate another site-building tool. These are managed hosting plans, which is ideal if you need support.
The advantage of choosing general cloud hosting is easily switching between different platforms. Alternatively, you also have better control over your site size and speed, which is harder to grasp with other plans.
plans & pricing
Because you are paying for a web hosting account, what you pay for depends on the front-end site builder you want. Below is a breakdown of your options:
WordPress or WooCommerce Store Plans
Starts at $190 annually (up to $10 thousand)
Site count varies from 1 to 250
Storage varies from 15 to 800 GB
Bandwidth from 2 to 10 TB
Magento Cloud Hosting (Adobe Commerce)
From $41.30 to $601.30 for three months
11 to 51 sites
50 to 800 B of storage
1 to 10 TB of bandwidth
Cloud Hosting Plans
Cloud hosting plans are your best option if you want to implement a custom site-building tool.
From $49 to $849 monthly
11 to 51 sites
50 to 800 GB storage
1 to 10 TB bandwidth
pros & cons
Pros
Generous space for hosting
Flexibility for working with multiple platforms
Support for multiple sites
Cons
No free domain
Requires additional payment for building software
6. Prestashop – The Best Entry-Level Ecommerce
Platform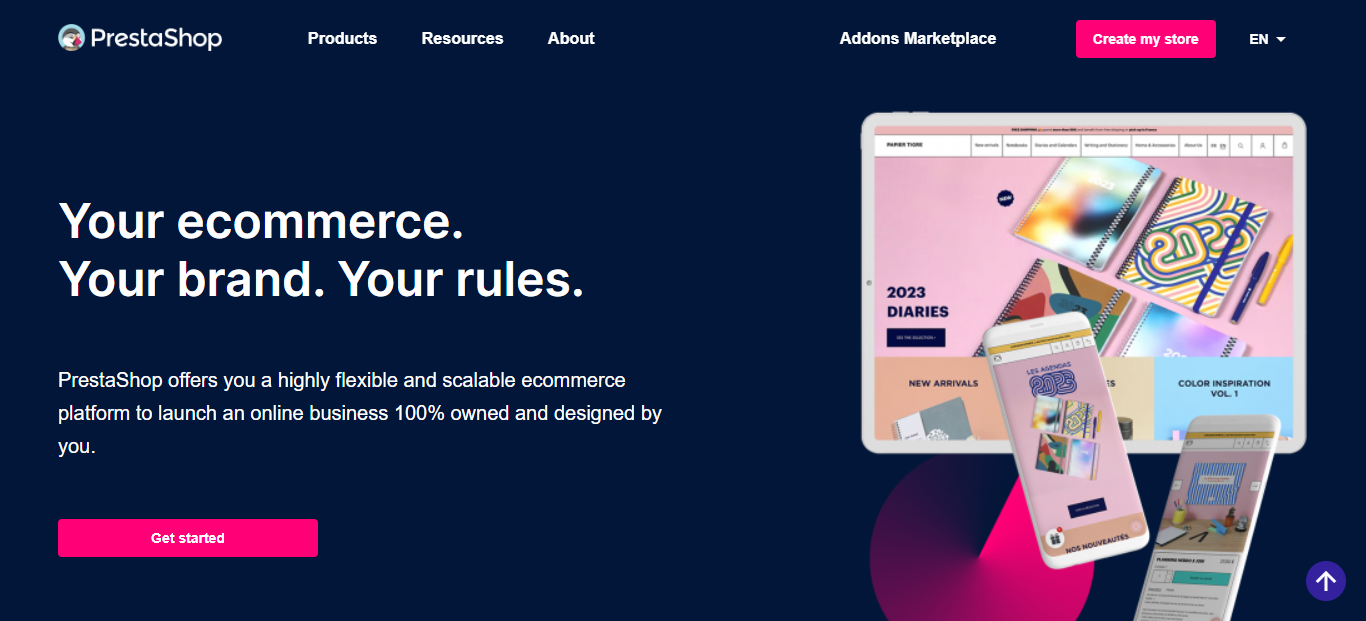 Summary
PrestaShop is an online storefront that's much smaller than Shopify. Starting a store is not expensive, making it an ideal entry-level system for creating a store.
This means you can take your time to learn how to use the system. This is important, as PrestaShop has a much higher learning curve than other eCommerce solutions.
The high technical requirements start by requiring you to pay for hosting externally. Once you install the process, you get a standard drag-and-drop editor for pages and a relatively simple dashboard.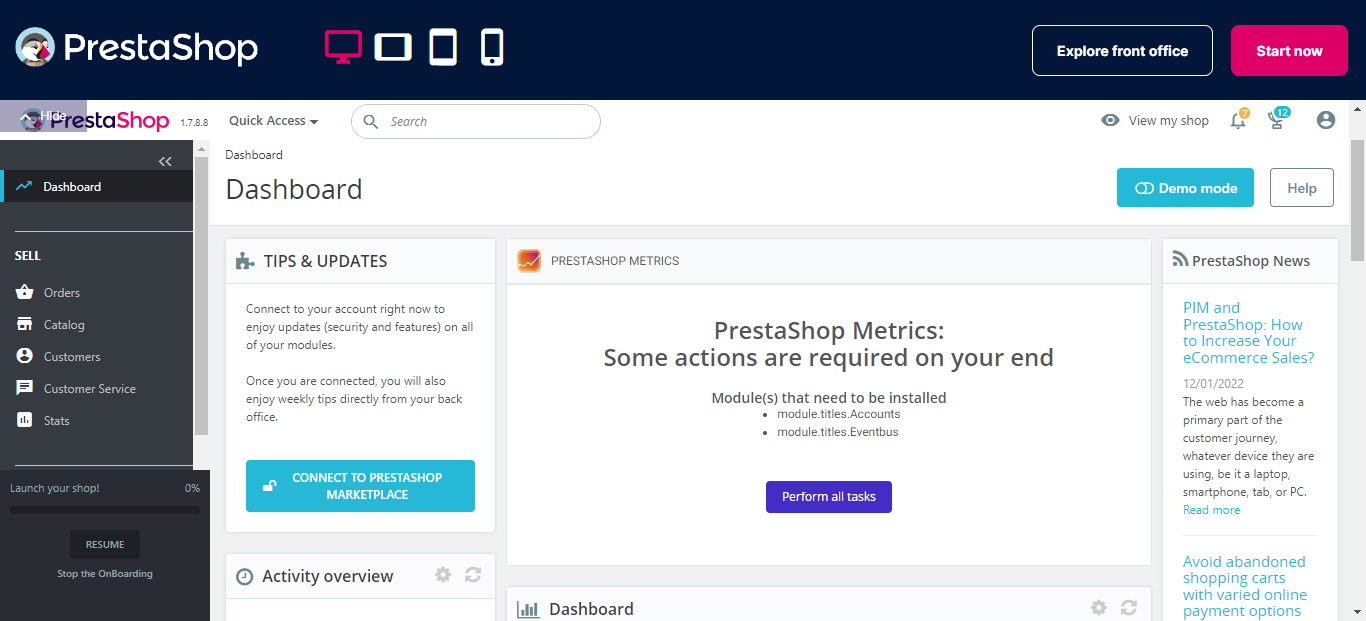 Focusing on the eCommerce software, PrestaShop has put together a thoughtful dashboard. The dashboard is supported by various modules created by third-party groups, similar to Shopify.
PrestaShop has thousands of these modules, creating a very customizable experience. With a bit of work, you can make a shop with more features than other Shopify alternatives.
plans & pricing
PrestaShop is free, requiring no money to get started with the platform. Instead, PrestaShop receives its money from a marketplace of applications.
Some of the applications are free, but many require a high upfront payment. Unlike Shopify, PrestaShop doesn't rely on regular monthly payments, making it a great way to save on costs.
The upfront cost of these modules often starts at $100, but avoiding monthly payments can save money. You also have a wide range of both paid and free themes.
pros & cons
Pros
Excellent customization options and integrations
A huge number of payment gateways
Free to start selling online
Cons
Customization options can get expensive
An overly technical approach requires more work to start with PrestaShop
7. Sellfy – The Best Savings Opportunity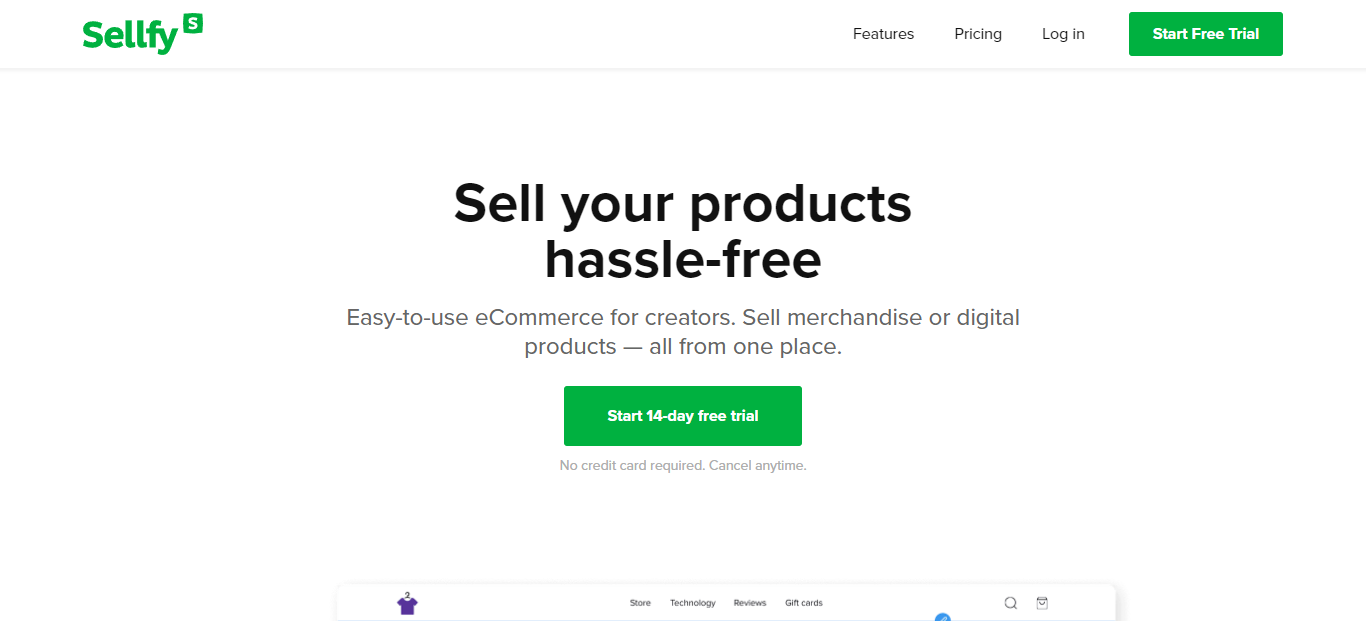 Summary
Sellfy is not one of those popular eCommerce platforms. If you want to create an online store, Sellfy is another option.
Much like Shopify, the dashboard gives you an overview, brings you through a tutorial, and provides some simple marketing tools. The dashboard also includes simple analytics features, which you can supplement with Google Analytics.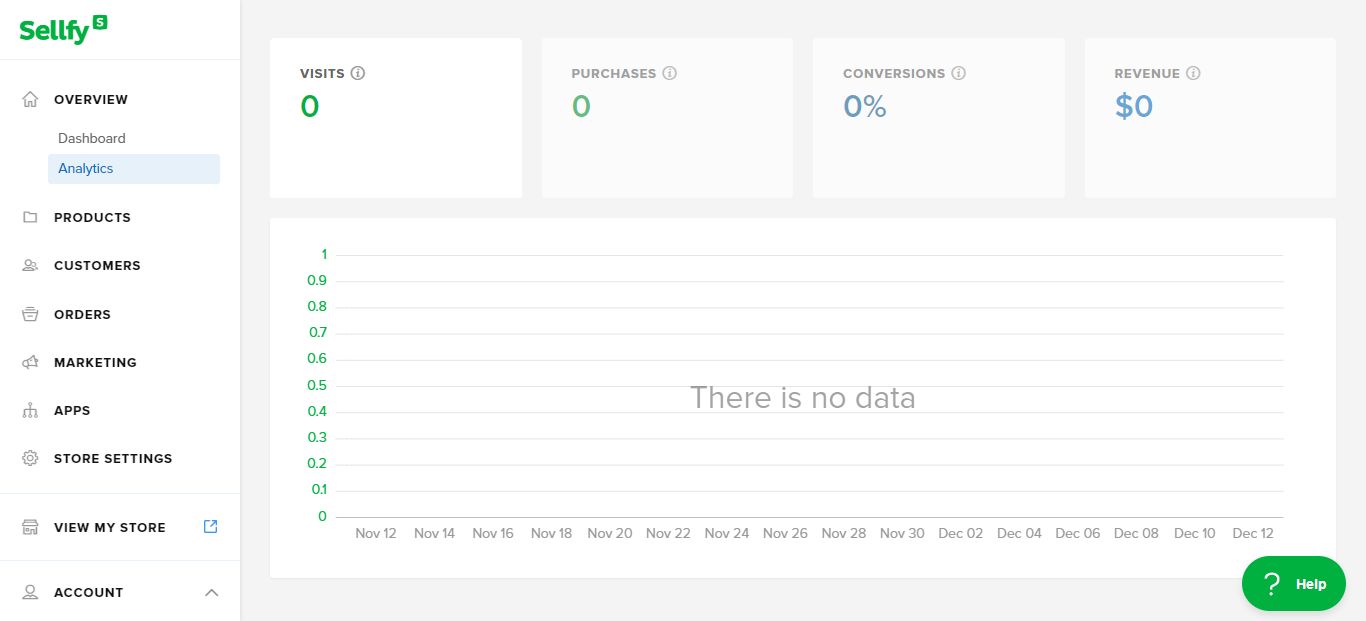 Sellfy also has an app marketplace. But as one of the smaller providers, its app marketplace is much smaller.
Sellfy is a much simpler version of Shopify, which might appeal to those overwhelmed by the number of options available. With this in mind, you can sell everything from subscriptions to print-on-demand products.
Sellfy is a great eCommerce solution for those looking for something simple.
plans & pricing
Sellfy has three plans for those who make less than $200 thousand n sales. Here's a breakdown of those plans:
Starter – $29 monthly ($19 bi-annually) – Up to $10k in sales, support for unlimited, digital, and subscription products, email marketing features, and custom domain integration
Business – $79 monthly ($49 bi-annually) – Up to $50k in sales, Removal of Sellfy branding, cart abandonment, and product upsales.
Premium – $159 monthly ($99 bi-annually) – Up to $200k in sales, product migration (from other stores), and priority customer support.
New sellers are often granted the opportunity to take free six months from their first year of use.
pros & cons
Pros
Offers two-year plans at an additional discount
Comes with hosting
A page builder is simple and easy to use
Cons
No free or lite plans are available
The dashboard is a bit too simple
8. Shift4Shop – The Best For Hands-On
Customer Service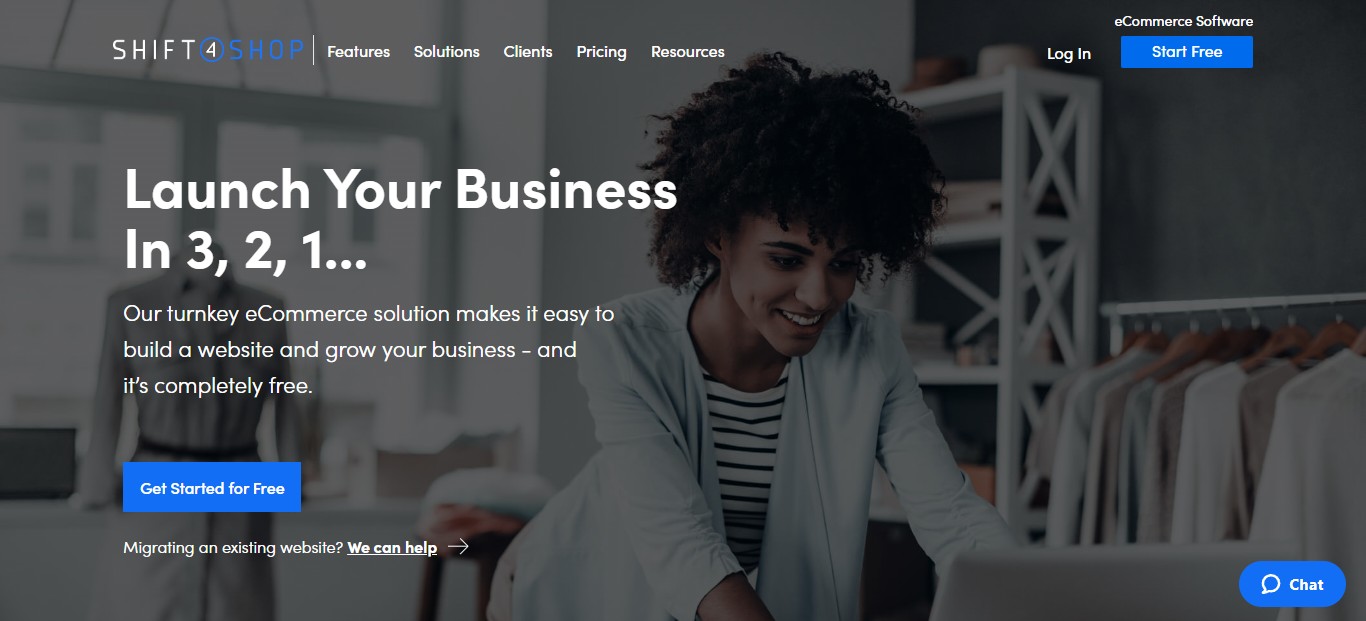 Summary
Shift4Shop is one of the more unique programs on this list. This is because of their more involved onboarding process, as they want you to communicate with customer service.
Shift4Shop won't let you create an account without first providing contact details. They will reach out to you about your plans to make an account. This involved process means you might not get a response for some time, which can be pretty frustrating if you just want to test the software.
Once you get through that first step, you can look at the dashboard.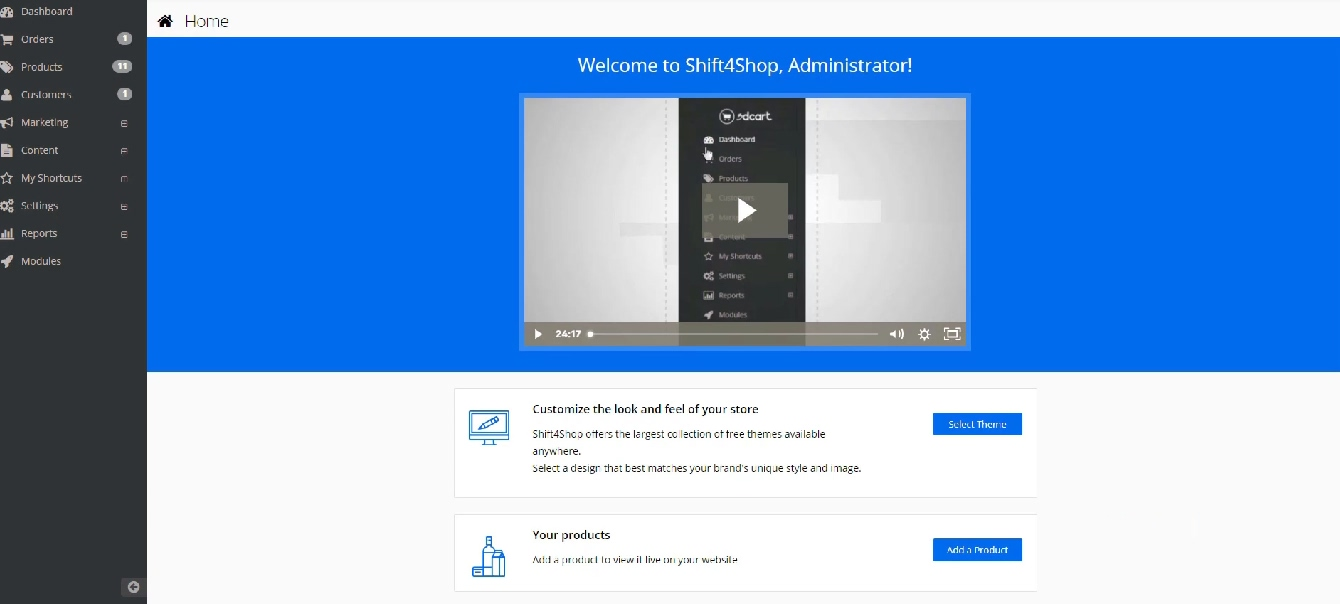 The dashboard is pleasant and straightforward, focusing on order management and marketing tools. The good news is that these tools are all included with their end-to-end plan, which is completely free. You need to choose Shift4Shop as your payment processor to use these features.
So, despite being picky with their customers, Shift4Shop is an ideal solution for those who prefer working with a human. Other site builders and eCommerce platforms are rarely this hands-on.
plans & pricing
Shiftr4Shop likes to bury its pricing on its website. To find out, you have to communicate directly with customer service. Thankfully, this pricing breakdown will let you look at the cost without feeling the sales pressure:
End-to-End – Free – Requires you to use Shift4Shop to process online payments. Matches the features under the Pro Plan.
Basic – $29 per month – Support for inventory tracking, unlimited products, reviews, and digital downloads up to $100 thousand annually.
Plus – $79 per month – product Q&A features, customer segmentation in your CRM, and a sales cap of $250 thousand.
Pro – $229 per month – auto-shipping features and sales up to $1 million.
pros & cons
Pros
Has extensive free plan available
Offers automatic shipping features with higher tier plans
Easy to upsell and cross-sell
Cons
Requires customer service conversation to make an account
Customer service is slow to respond, meaning you might have to wait days for account creation
9. Square Online – The Best For Physical
Storefronts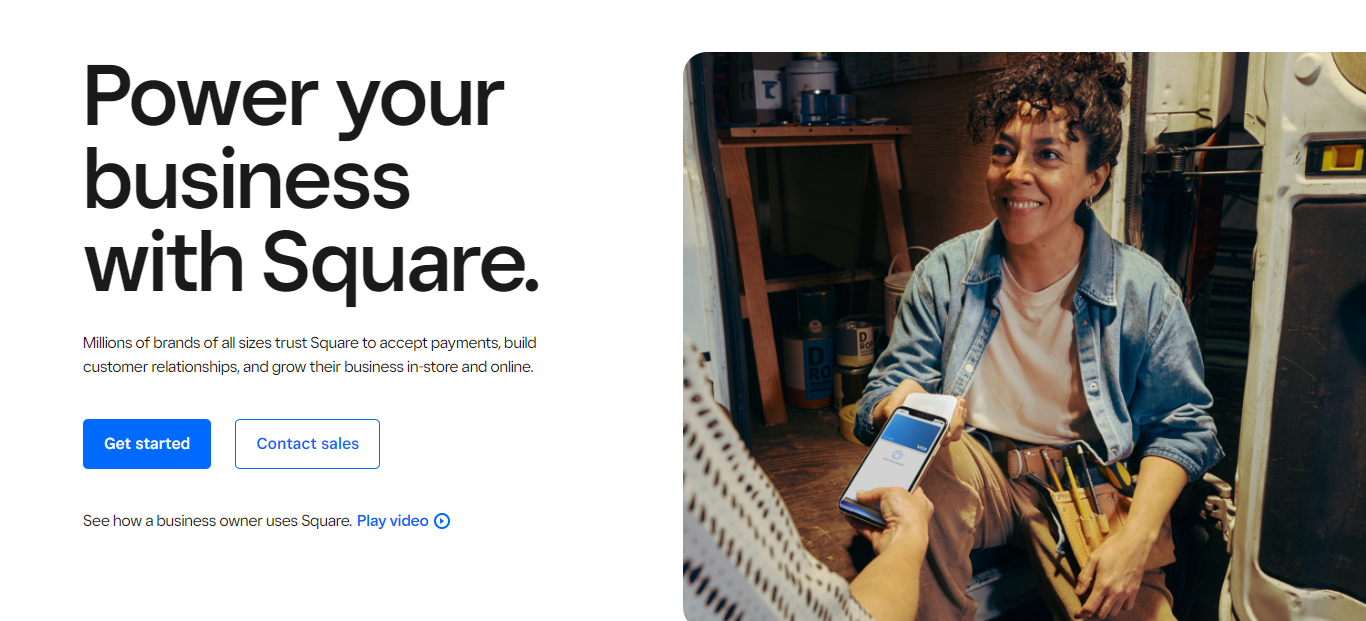 Summary
Square is one of the most popular eCommerce platforms for physical sales. The free POS system you get makes it easy to take payment wherever you have your phone. The company's online store builder, Square Online, is a solid Shopify alternative. Check out our Square review for more information.
Square is a more straightforward form of Shopify's eCommerce system. Similar to Shopify, both have a website builder, but Square's is far simpler. It also has fewer apps and interactions but makes up for it in how it integrates with its physical sale system and tracking software.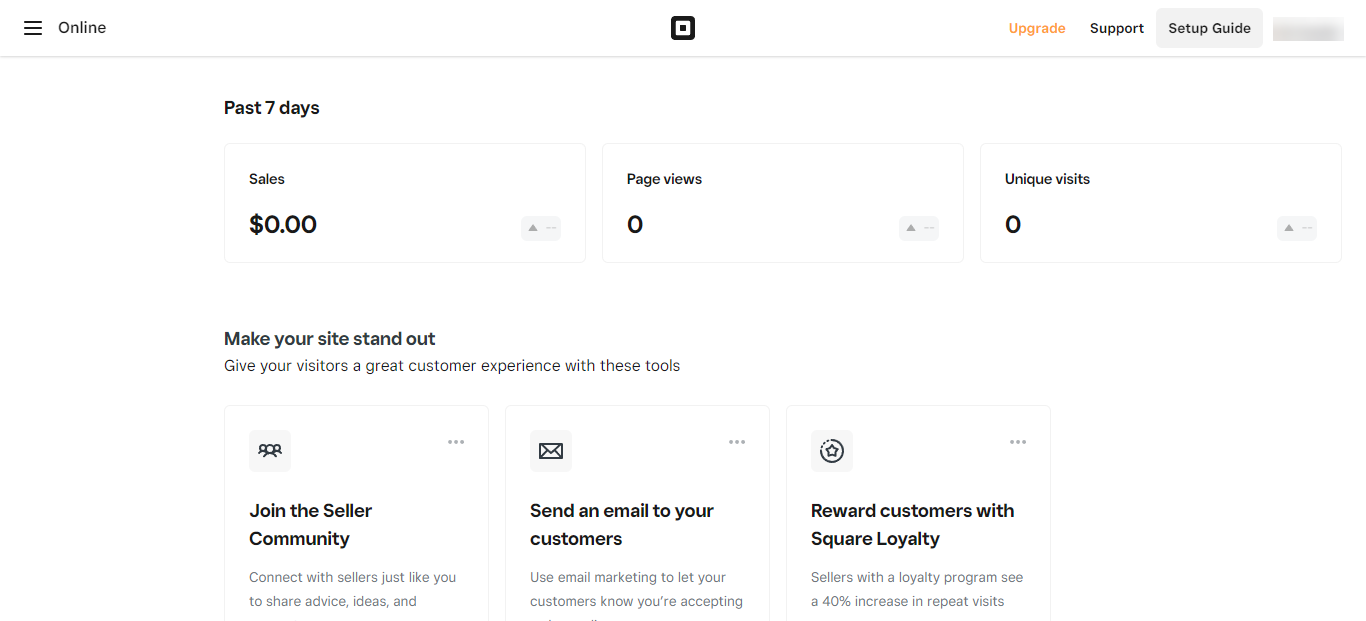 Square also interacts with shipping data and supports pickup and delivery tracking. Finally, Square also integrates well with communication tools. You can send an email and text alerts, set up pop-ups, have a site messenger, or send emails on abandoned carts.
Square has many features that make it incredibly useful for new sellers. But as those new sellers grow, they might find the transaction fees adding up, making it less useful for later businesses.
plans & pricing
Square's physical and digital sales systems for free. However, you also have the option of paying for premium plans. Here are your options for starting a website through Square with a small annual discount:
Professional – $12 per month – Custom domain support, no branding, and password-protected pages.
Performance – $26 per month – Accepting PayPal payments, product review support, abandoned cart emails, and advanced reporting tools.
Premium – $72 per month – Lower processing rates and a real-time shipping rate calculator.
pros & cons
Pros
Integrates well with a physical POS
The free plan will help you get started
Support for Facebook and Google multi-channel selling
Cons
Limited customization options
Transaction fees can add up for high-volume sellers
10. Squarespace – The Best For Design
Features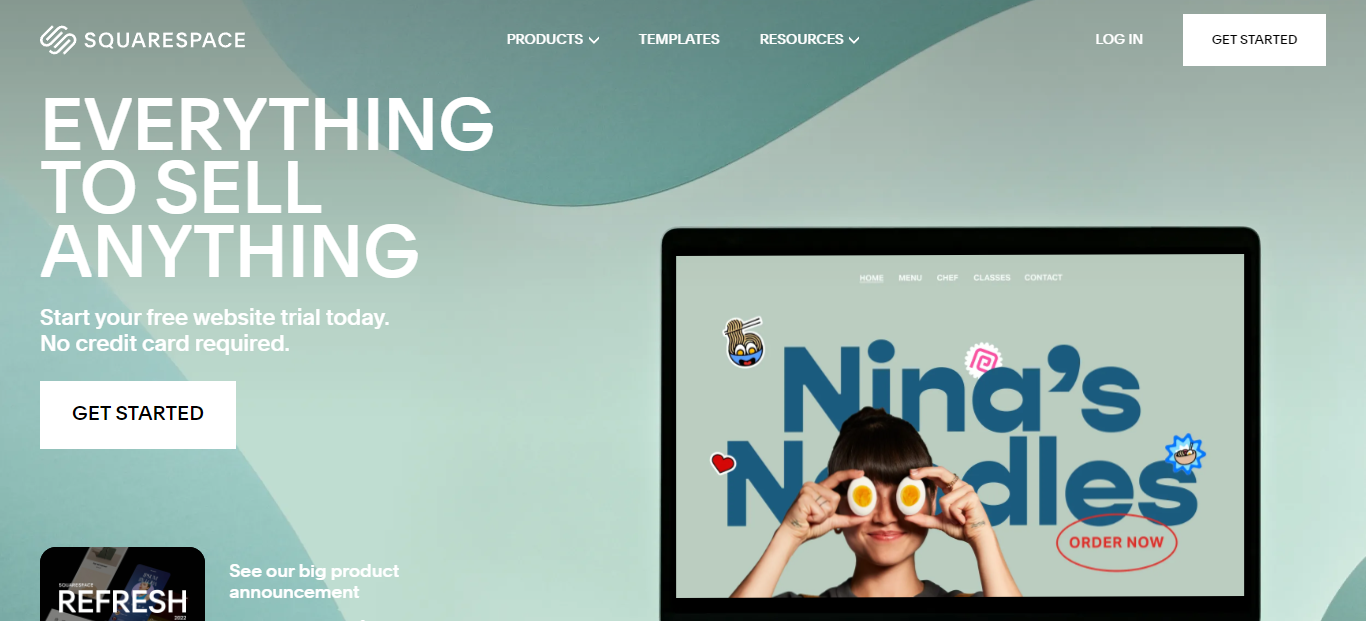 Summary
Squarespace is one of the most popular platforms for site building. With some basic eCommerce features, it appeals to those who value good design.
Squarespace lets you create a website without paying a dime. But if you want this website to be usable, you'll need to pay Squarespace's fees. As you'll find when scrolling down, they are a bit more expensive than some other eCommerce sites.
Squarespace is one of the best Shopify alternatives for designers. Its dashboard focuses on this, showing the page on all parts of the dash.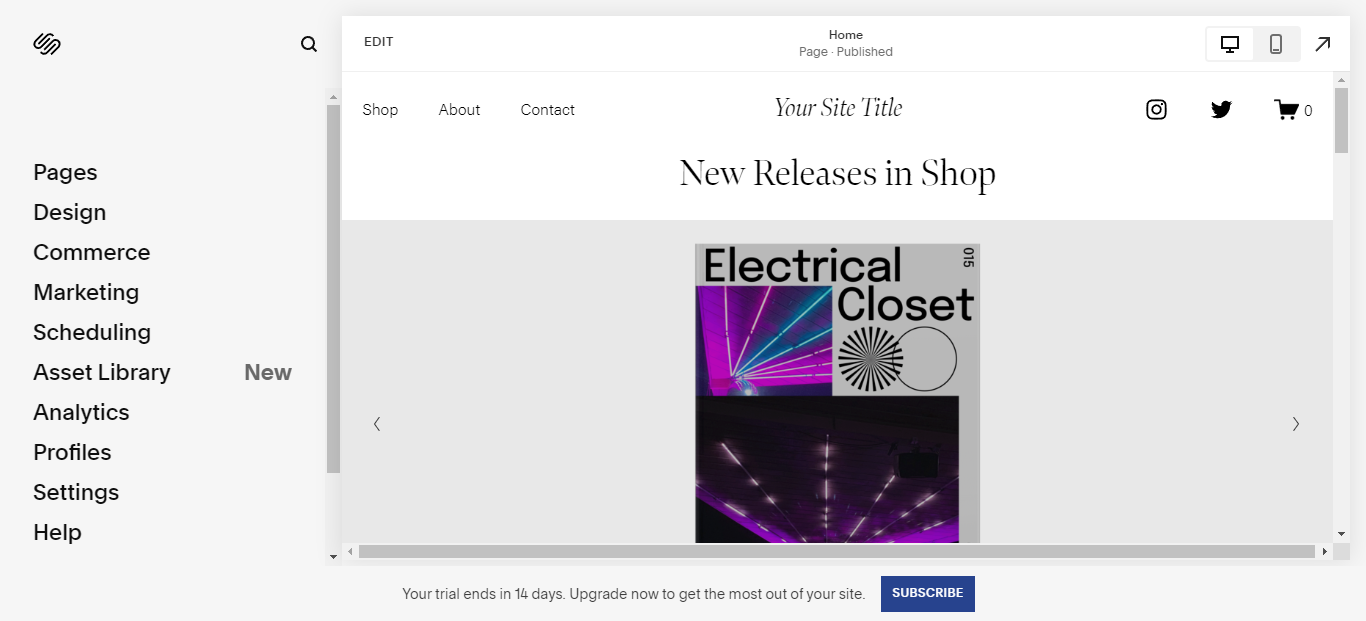 Because of the focus on design, Squarespace generally has weaker eCommerce functionality. However, it does support multi-channel selling, which is enough for most people.
Whether you have a digital or physical shopping cart, you'll also find some integrations. While it isn't as much as Shopify, its focus on simplicity appeals to a wide audience.
plans & pricing
Squarespace's premium website builder varies in price. To sell products, you need to start with the second-level plan. Here's the pricing breakdown with the annual discount included:
Personal – $16 per month – mobile-optimized websites, a free domain, and access to multiple free templates.
Business – $23 per month – Simple website analytics and eCommerce features.
Commerce Basic – $27 per month – Advanced website analytics, eCommerce analytics, and eCommerce features without transaction fees.
Commerce Advanced – $49 per month – Advanced shipping and discounted features.
pros & cons
Pros
Powerful website-building features with many free themes
Excellent tools for blogging and SEO.
Sites have great mobile friendliness.
Cons
3% transaction fees under the business plan
No free plan is available
11. uCraft – The Best Free Shopify Alternative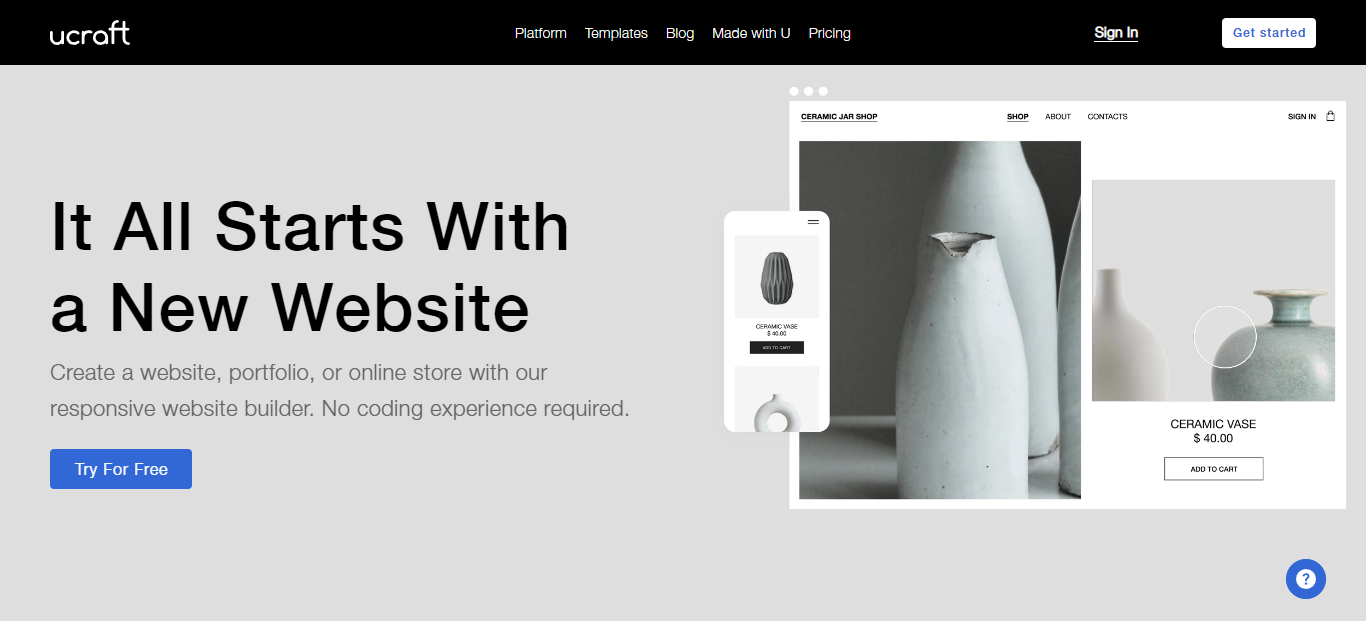 Summary
uCraft is unique because it's a small eCommerce platform with big aspirations. Like Shopify, it is a dedicated eCommerce platform that relies on its own hosting.
Much like Shopify, it has its own app store. The number of interactions it has rivals Shopify. This is especially true when comparing Shopify Payments, as uCraft supports over 50 payment gateways.
Much like Squarespace, uCraft emphasizes the design of its main platform. uCraft houses a secondary eCommerce-focused dashboard.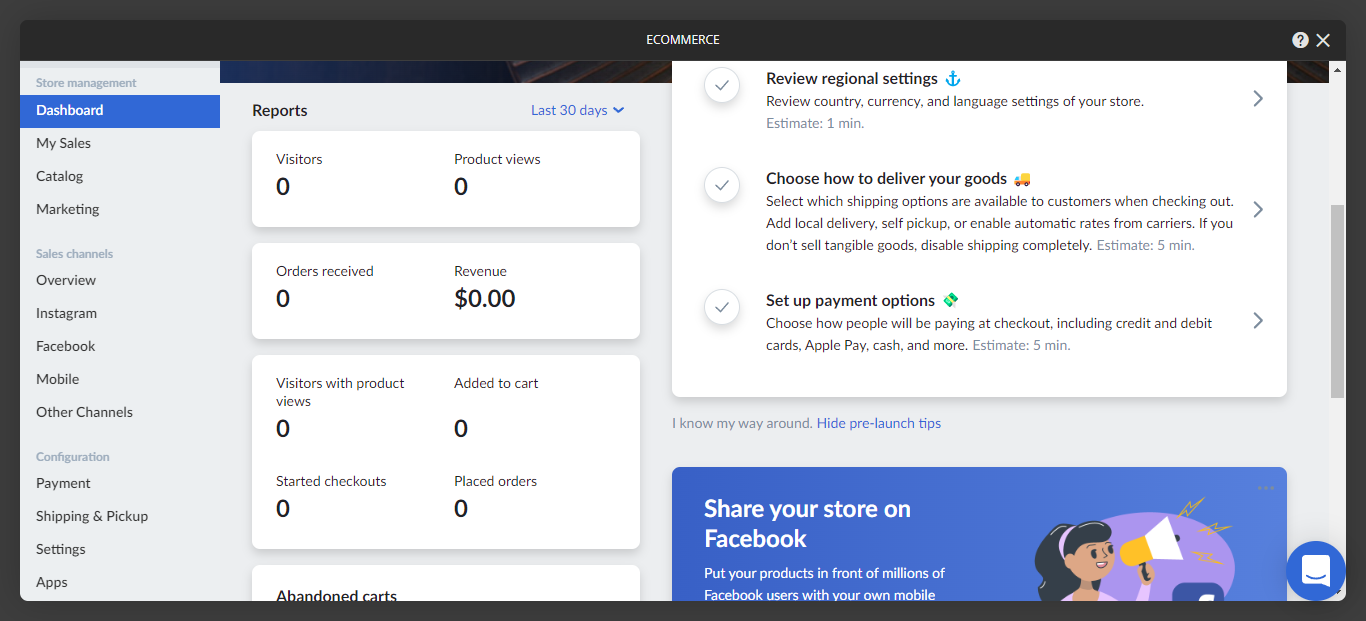 uCraft's best feature is the focus on offering unlimited bandwidth. Unlimited bandwidth can support huge stores. Despite this, you don't have to pay more than $70 per month.
The problem with having this many features is that uCraft can slow down a bit. Despite this, uCraft is an excellent solution if you want to sell online.
plans & pricing
uCraft has four different plans, with the first one being completely free. Below you'll find a breakdown of those four plans:
Free – Google Analytics, password-protected pages, no eCommerce features, and support for 15 pages.
Pro Website – $10 per month – Support for Stripe and Paypal, over 20 shipping methods, one free domain, unlimited pages, support for 15 products, and product filtering.
Pro Shop – $21 per month – Support or 1000 products, support for over 50 payment methods, and support for 1 GB of digital sales
Unlimited – $69 per month – Support for unlimited products and 10 GB digital files support
pros & cons
Pros
Incredibly cost-effective plans
Support for multi-channel sales
Incredibly similar to Shopify
Cons
It can slow down because of too many features.
The free plan does not support all eCommerce features.
12. Volusion – The Best Ecommerce Platform
for SEO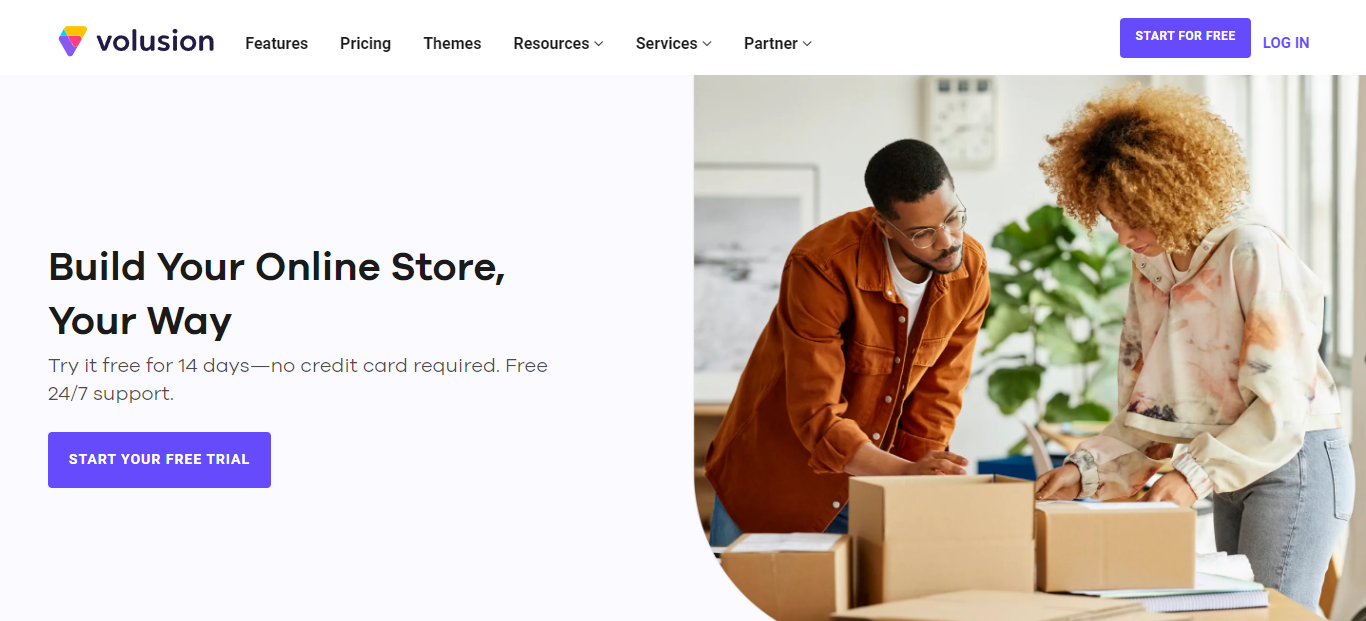 Summary
Volusion is ideal if you want to start your own online store. The comprehensive system allows for order tracking, a customer relationship manager (CRM), inventory management, and site design features.
Volusion works similarly to WordPress in how it hosts the websites for you. You can easily share the URL with staff by them with your unique link. You can assign staff to different areas, giving Volusion great scalability.
The dashboard also chooses to put its navigation bar up top. This gives you more room to focus on data.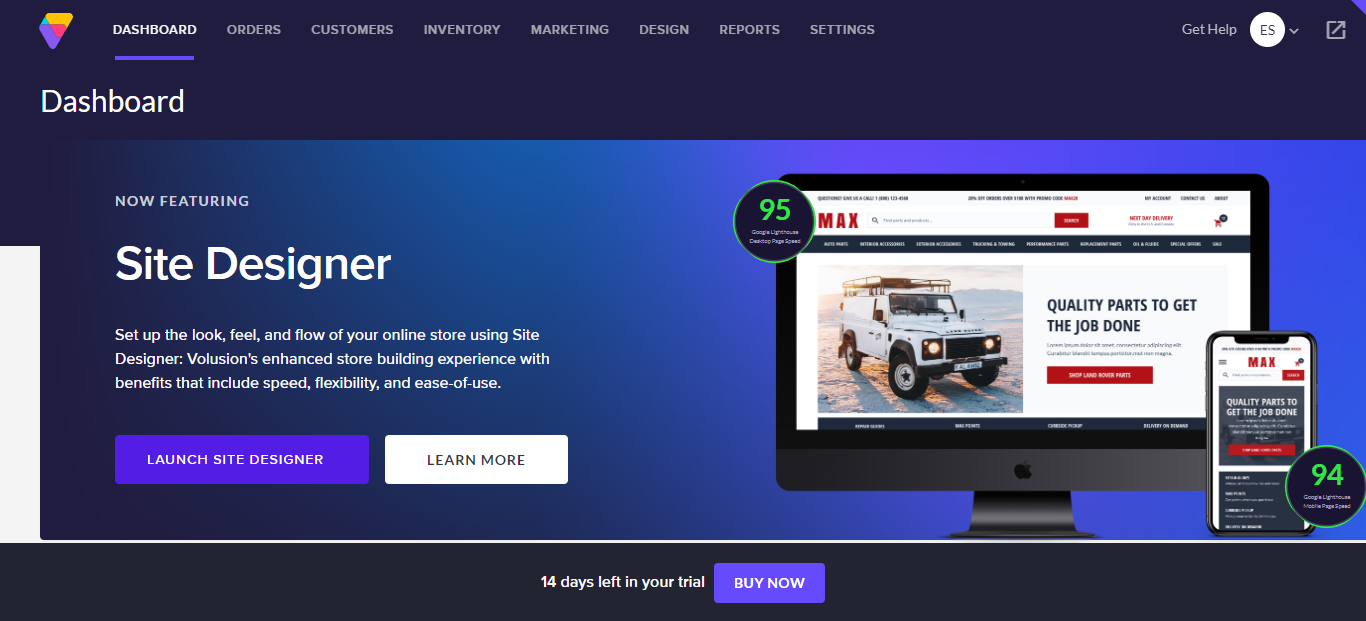 Volusion takes a bit of work to get used to. Where it excels comes back to its SEO tools, which expand to all payment plans. Those looking for a fully integrated platform will find something incredibly useful in this tool.
plans & pricing
Volusion has three different plans limited by the number of sales you make. Below is a breakdown of how the four different plans work, including the annual discount:
Personal – $31.50 per month – Sales up to $50 thousand per year, up to 100 products, one staff account, and live chat/email customer support.
Professional – $71.10 per month – Sales up to $100 thousand per year, up to 5 thousand products, five staff accounts, phone orders, and email marketing features.
Business – $269.10 per month – Sales up to $00 thousand per year, unlimited products, 15 staff accounts, customer loyalty plans, and extra phone support.
Prime – Based on your yearly earnings – Unlimited staff accounts, VIP response, early access to new features.
pros & cons
Pros
Great SEO tools with all plans
No transaction fees
Support of live chat and email features
Cons
No built-in features for blogging
More expensive than other eCommerce site builders
13. Wix – The Best For Deep Customization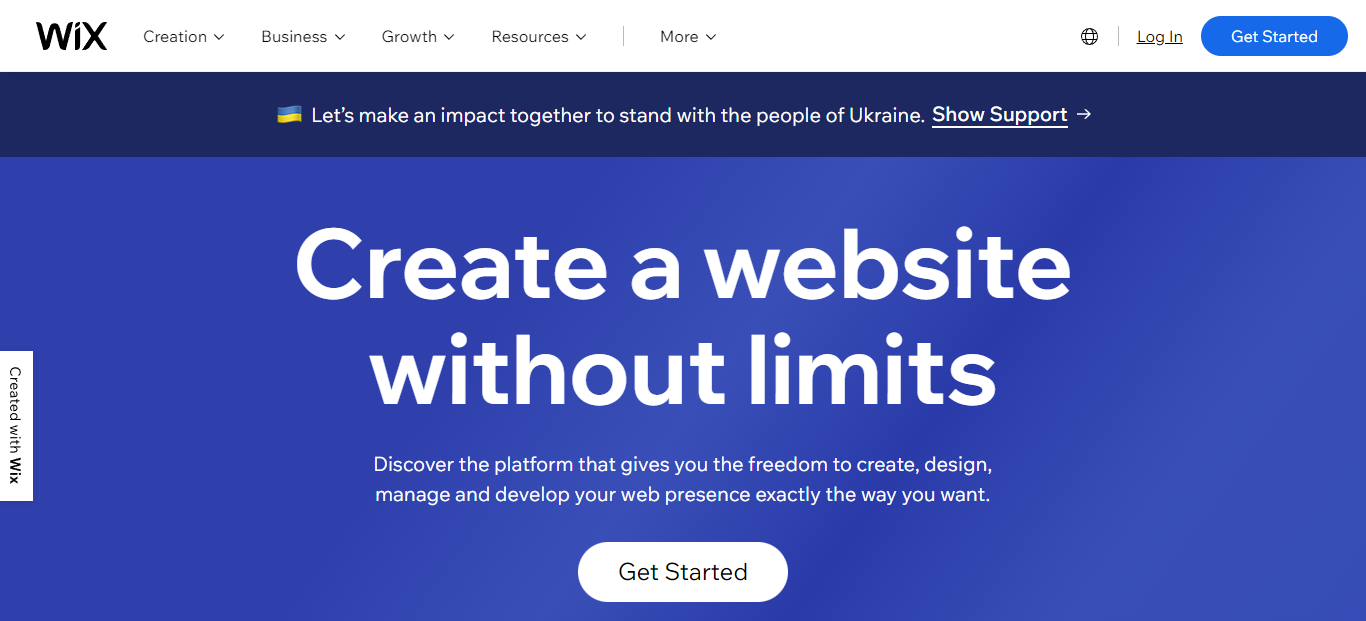 Summary
Like Squarespace, Wix is one of the best Shopify alternatives for those who appreciate design. Unlike Squarespace, Wix has a lot more detail and depth. Because of this, it's a bit more complex, which works to Wix's benefit. Check out our Wix review for more details.
Wix is similar to Shopify because it has its own marketplace of third-party apps. You can also create your own app through Wix, letting users buy products or use services with your unique brand.
Wix isn't purely an eCommerce platform. Many users build blogs or service businesses. Wix has many advanced marketing automation features to help you through making an online business.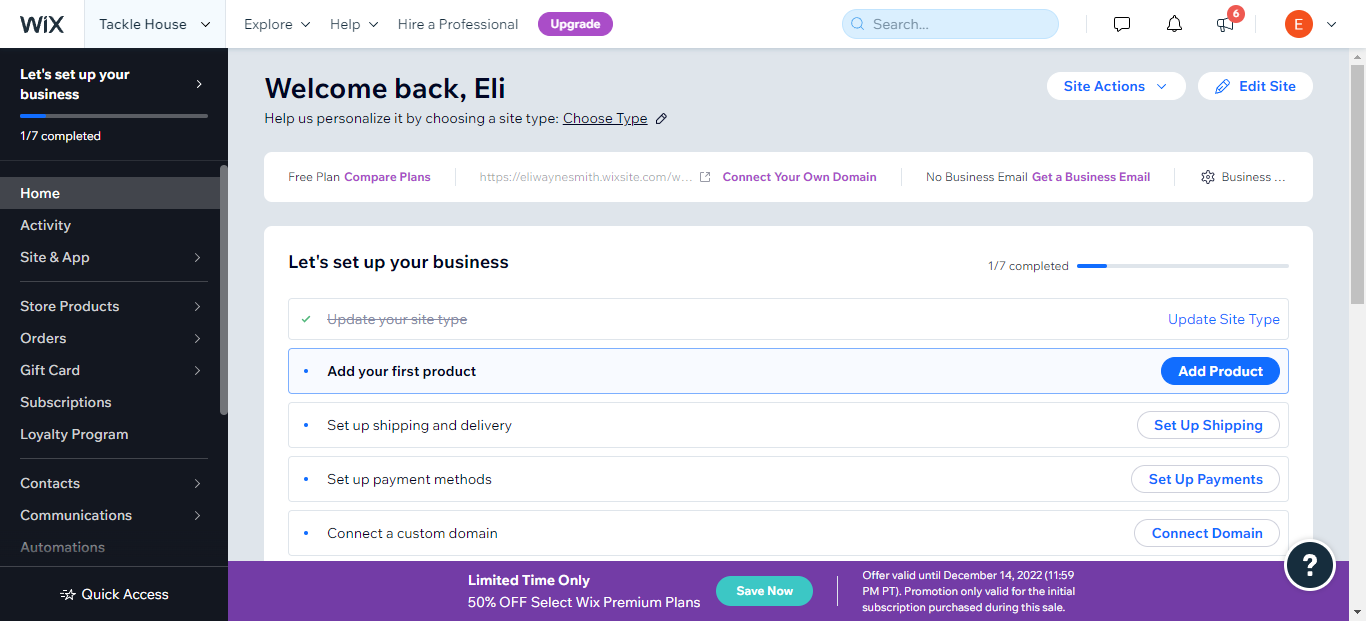 Wix also supports multi-channel sales through social channels and third-party marketplaces. They are one of the only major eCommerce websites that integrate with Wish.
Wix's features are a bit overwhelming at first. However, they are well worth your investment.
plans & pricing
Wix has seven different plans to choose from. However, you'll need to stick to their business and eCommerce plans to sell online products. Here's a breakdown of those three plans:
Business Basic – $27 per month – 50 GB of storage space, unlimited products, and abandoned cart recovery.
Business Unlimited – $32 per month – Online subscription support, multiple currency support, dropshipping through Modalyst for up to 250 products, and automated sales tax services (up to 100 transactions per month).
Business VIP – $59 per month – Unlimited products for dropshipping, up to 3,000 product reviews through KudoBuzz, and a loyalty program by Smile.io.
pros & cons
Pros
Amazing drag-and-drop page editor
Deep app marketplace
Amazing customization features
Cons
Can't change templates after applying them
More expensive than other website builders
14. WooCommerce – The Best For WordPress
Users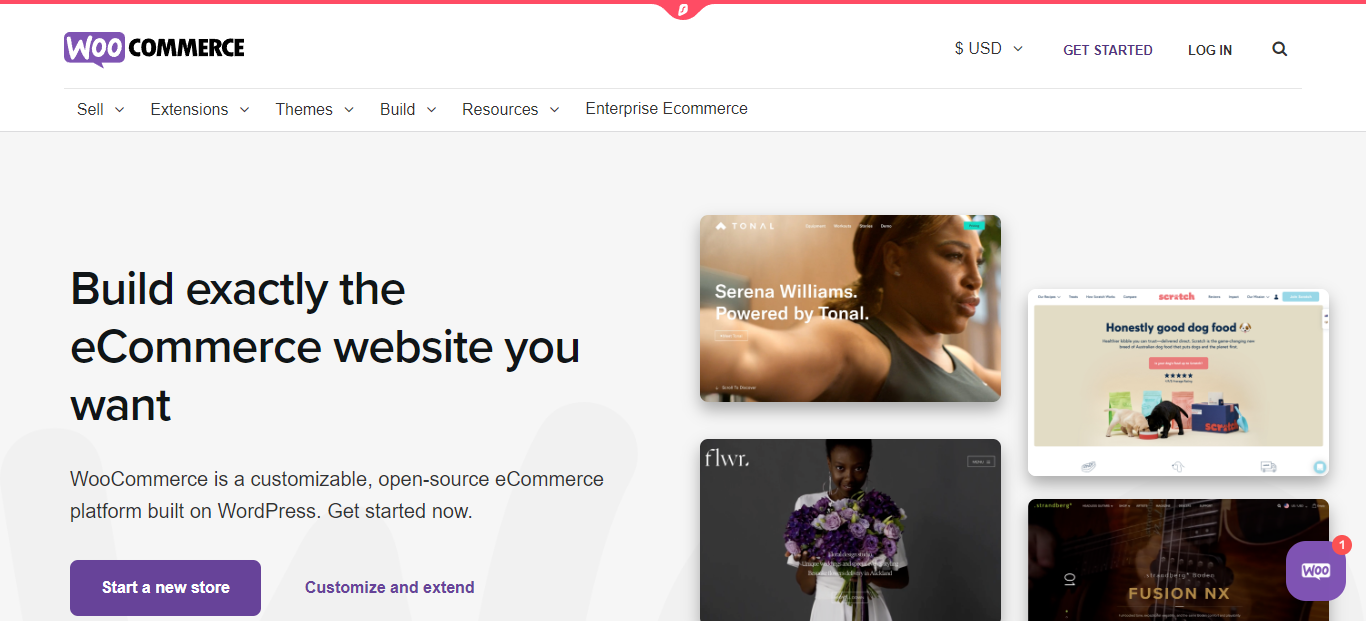 Summary
WooCommerce is easily the best Shopify alternative for WordPress users. It is the most popular platform for eCommerce on WP, mainly because its entry-level pricing is incredibly inexpensive. To find out more details, check out our WooCommerce review.
WooCommerce is incredibly popular because of its deep customization. It has many extensions and themes to help you create a unique page. All of these features can be found on the WooCommerce dashboard. But to add products and create your store, you'll need to do it from your WordPress dashboard.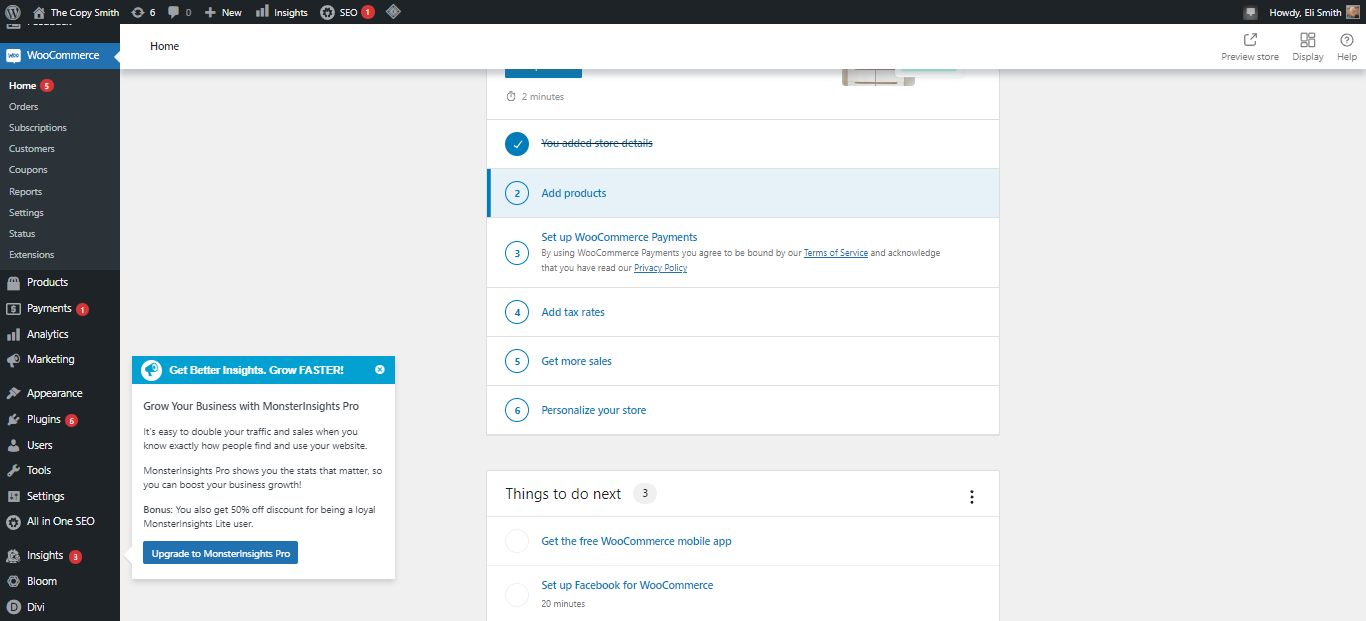 Given that everything is done through WP, you must take extra steps to manage and install your plugins. This makes WooCommerce more technical than the average eCommerce store builder.
If you are already familiar with WordPress, you'll find WooCommerce a natural extension. But unless you already know you like WordPress, WooCommerce might not be for you.
Ultimately, it is a great eCommerce solution for those who already love the platform. But it isn't ideal if you don't already use WP.
plans & pricing
WooCommerce starts entirely free, with paid items being completely optional. However, certain premium features are locked behind a paywall, often requiring an annual payment. Here are a few extensions you might consider and their yearly cost:
WooCommerce Subscription Downloads – $49
WooCommerce Subscriptions – $199
WooCommerce Bookings – $249
Product Add-Ons – $49
Product Search – $49
Checkout Add-Ons – $79
Many more add-ons can make WooCommerce a bit too expensive for those with specific needs.
pros & cons
Pros
Free to use basic features
Integrates across multiple WordPress apps
Built-in inventory tracking system
Cons
You need to pay for WordPress hosting to use it
Paying for multiple extensions can get expensive
15. Zyro – The Best Low-Cost ecommerce
Platform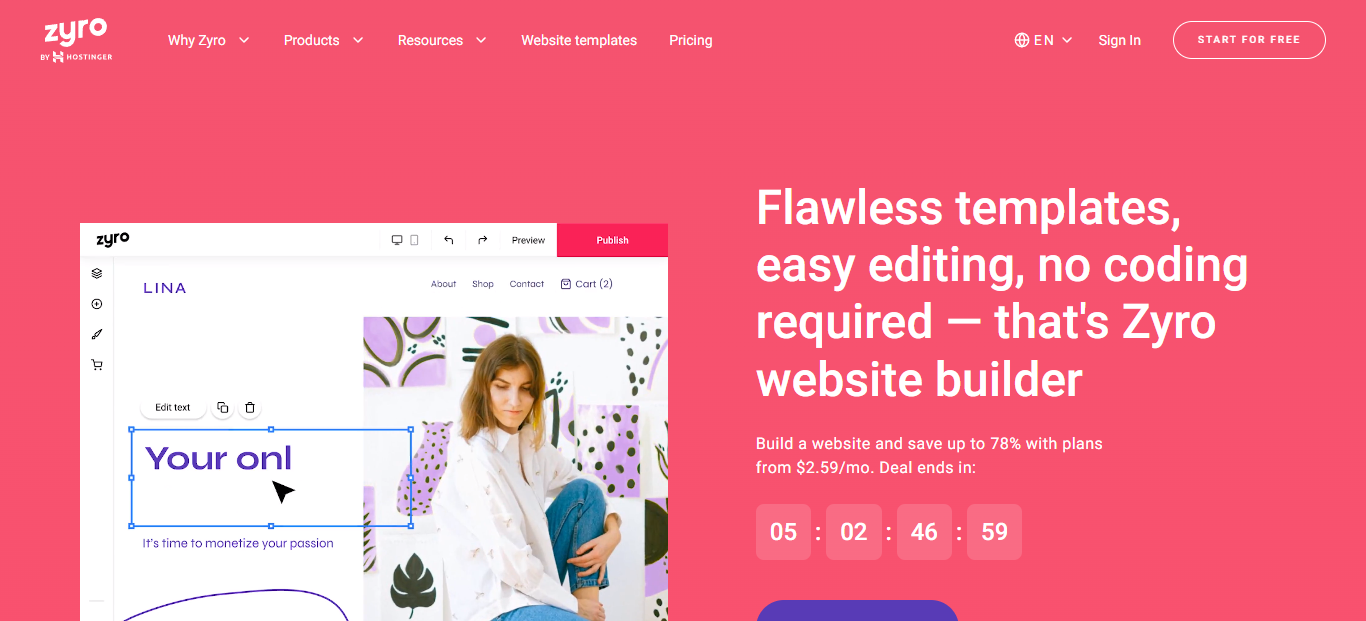 Summary
Zyro is a website builder by Hostinger, a well-known web host company. It integrates this web hosting with Zyro, a separate website builder with powerful and simple features.
Zyro's main claim to fame is its AI-driven features. Using these builders, you can build websites, write content, and create logos. But ultimately, these features aren't as helpful as you might think.
Instead, Zyro should be appreciated more for its simple page-building tools.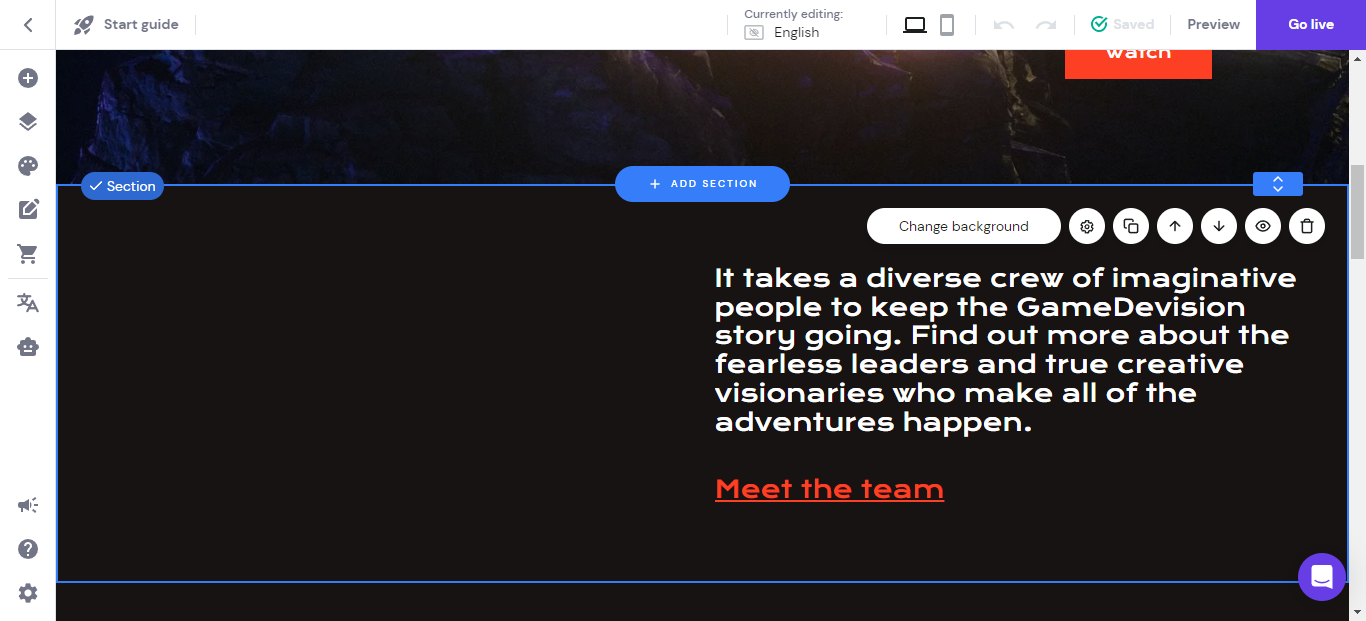 Like uCraft, Zyro builds its store management features into its building software. You don't have to leave the software to manage your store. This can result in some slowdown but ultimately creates a more seamless experience.
Each product creation will create a page for you based on your settings. This makes it pretty easy to introduce new products. But it may still take you some time to move over bulk products.
Zyro is ultimately simpler than other building platforms. This makes it easier to use and means you have fewer integrations.
plans & pricing
Zyro likes to keep things simple, only having you choose between two plans:
First, you can choose the Website Plan, costing $11.99 monthly, but often on discount for below $3 per month. It offers a free domain for one year, free email for three months, and built-in marketing integrations.
If you want to use Zyro's eCommerce features, you'll need to pay for the Business Plan, which costs $14.99 per month (often discounted just below $4 per month). This more expensive plan will let you sell up to 500 products on your website.
pros & cons
Pros
Low prices for first-year users
The website builder is straightforward to use
Includes several live chat integrations
Cons
Limited integrations with third-party platforms
No support for unlimited products
Wrap-up – what's the best Shopify alternative for my ecommerce store?
Shopify is easily one of the world's best eCommerce platforms. But it isn't perfect, which is why many alternatives are available on the market. So the best choice depends on your needs.
We hope this list of eCommerce stores helps you decide on one that better meets what you are looking for. It's good to be picky, especially when you know this pickiness might change the success of your future online business.