Print Anything You Want With Printful Print-On-Demand Services
Printful is one of the best print-on-demand drop shipping services that boasts many positive features and accolades.

Pros
Powerful design maker
Automated order fulfillment and shipping
No minimum orders
Free account
Cons
Editing variables takes time
Relatively small product range
Lower profit margins
Limited branding options
Many aspiring ecommerce platform owners struggle to choose a service or app that lets them create brand-new products for sale. The print-on-demand (POD) industry is rather saturated with rivaling companies, making a wise choice unclear.
Fortunately, out of many POD companies in the e-commerce realm, one stands out among the rest. Read on to learn more about this company in this Printful review.
What Is Printful
As mentioned above, Printful is a print-on-demand store partner with a drop-ship service attached. The term "print-on-demand" signifies the service will start producing whatever your store sells when an order comes through.
Since Printful works via drop shipping, owners don't have to keep warehouses of stock. All items are directly shipped from the printing facility to the customer.
Store owners are in charge of designing custom-printed products that are sold under their brands.
As an American company, Printful is often chosen in the U.S. for custom t-shirts and other products for expedited shipping.
Printful has a platform that facilitates design creation, but you can also import patterns or styles from elsewhere without an issue. Printful is compatible with other large ecommerce platform solutions.
Best of all, Printful will handle all the work besides graphic design and marketing. Storing raw materials, shipping, and returns are all under the company's scope of work. Therefore, all you need to do is make designs and handle the store promoting and advertising.
The idea is when your store receives an order for a t-shirt, Printful will start making this shirt and package it once completed. After these steps, the company will ship it to the customer.
Since you're not the one handling the shipping and returns, it's apt to describe Printful as a combination of POD and drop-shipping. It reduces your workload significantly and allows experts to handle the aspects of managing an online store that you aren't the best at.
As of now, Printful offers a large variety of products. Jackets, hoodies, T-shirts, skirts, hats, pillows, blankets, bags, coffee mugs, tote bags, and posters are just some of the options the Printful service can be used for. Start selling these and more as soon as the designs are uploaded and ready for sale.

Tip – to find how Printful stacks up against its competitor, Printify, be sure to read our Printful vs Printify comparison article to help you make an informed decision between these two fierce competitors.
Printful Review – Main Features
Here are all of Printful's main features that you'll most likely use one way or another. They all contribute toward the production of high-quality prints.
Design Maker
Prinful's design maker is where you transform ideas into reality. This feature is basically a one-stop shop for bringing the ideas floating in your mind to life with tools to help you visualize how a design looks on a piece of apparel or an accessory. It can even create wall art designs.
Even though you can create your own designs, there's nothing wrong with hiring a professional graphic designer for the job. You can use custom-made designs in various formats and upload them as-is or streamline them in the editor.
There are plenty of graphics all ready to use. From more than 700 fonts to 110 million premium images, there's no visible limit as to what you can come up with using the Printful design maker.
Don't worry if your image isn't in the correct resolution. Printful will perform image upscaling automatically once you choose the image to make it meet printing requirements.
Once you're satisfied with a design, you can instantly create a mockup to see how it looks on a person. These mockups can be downloaded as a reference.
Having many printing options like apparel printing, screen printing, and embroidery, you can delve into many product types without switching to other print providers.
Quality Control
Printful doesn't outsource any labor to third-party POD services, meaning everything begins within its own platform. The workers all work directly for Printful to ensure each sale is of the best quality. All custom products undergo checks before shipping.
Their shipping service is also generally reliable, getting your print-on-demand orders ready efficiently and on time.
Excellent Customer Support
Even with some negative reviews, many people agree that Printful's customer support is better than what its competitors offer. There are three options for contacting customer service representatives.
If you live in the U.S., there's a phone number you can call on weekdays from 9 AM to 5 PM Pacific Standard Time. For convenience, international users also have two methods that might work better.
There's a live chat feature clients can use, though it may not always be available. This was the case during the pandemic. As of writing time, chat support is unfortunately deactivated.
Otherwise, there's a contact form you can fill out after scrolling down. Make sure to give as much detail as possible and provide a valid email address.
Printful also maintains a comprehensive FAQ page and creates video tutorials that solve most general issues. These resources are usually helpful in a pinch.
Printful's return policy is generous and the company usually covers situations where it's clearly the one at fault. The shipping is fast, though international orders are slower, as is usually the case with many demand companies. Good customer service like this is rare in the ecommerce business industry.
Sample Orders
Online store owners can create sample orders in case they prefer testing the products out themselves before selling anything. The good news is Printful doesn't have a minimum order requirement, and you get two sample orders a month at first. Once you start earning beyond $300 a month, this limit is increased to three sample orders a month.
At first, you get three items per sample, but Printful will increase the number to four after you start selling more. All users must integrate Printful with their ecommerce stores first to take advantage of this feature.
Located in Many Countries
The company headquarters is located in Charlotte, North Carolina. However, to help make shipping to other locations easier, it houses additional fulfillment centers in other countries:
Mexico
Canada
Brazil
The U.K.
Latvia
Spain
Japan
Australia
These fulfillment centers are enough to cover Europe, South America, Asia, and Australia.
Fulfillment centers are where your products go, once Printful has finished making and packing them. Your customer will receive their purchases from the closest such facility.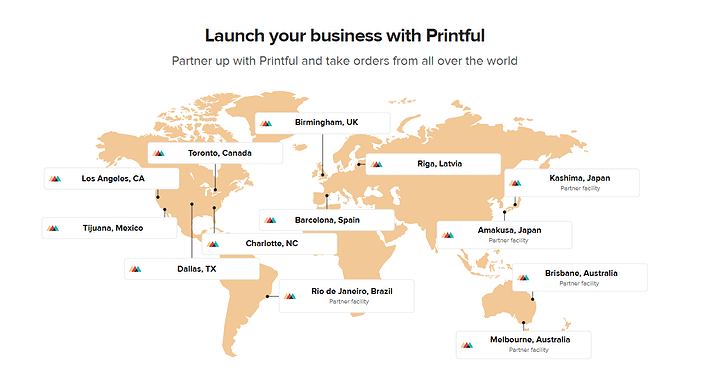 Custom Branding Options
Printful doesn't force any users to implement its brand logo on their products. You're in charge of creating and expanding your own brand, and Printful won't stop you from doing so unless you infringe on someone else's copyrights or want to sell something that contains illegal content.
Because all of the content you produce belongs to you, Printful won't use any of it for promotional materials unless you authorize them. They still review submissions and will delete entries that break the rules. This practice is standard with both traditional and print-on-demand businesses.
Ease of Use
Even if you're new to the print-on-demand business, you'll likely find the Printful interface easy to understand and master. The user interface makes sense to trained professionals or beginner entrepreneurs who want to take a look at what the platform offers.
Some platforms have a confusing layout, but Printful makes accessing your inventory and orders straightforward. Everything is in one place for you to access.
Syncing Printful to your online store doesn't take much time either. It's not just the products that are high-quality, but the user interface follows user-friendly guidelines.
Because Printful is a dropshipping service, you don't need to list orders or handle fulfillment yourself. You can spend more time producing designs or managing other aspects of your store. There are no middlemen involved.
We mentioned FAQ sections earlier, and these are found on the website without much navigation. The app guides you through the main features brilliantly. User reviews claim Printful isn't challenging to pick up, even for beginners.
Order Process & Fulfillment
Assuming you've set up your store and Printful correctly, you can now start selling. Here's how Printful handles fulfillment services.
First, a customer must order a product from your store, and Printful will immediately start preparing an order for production. At the same time, the Printful platform will create a shipping label so it's sent to the correct person.
The printing and fulfillment teams then begin with picking your product, printing your design, sorting it, and then checking for errors.
Eventually, the object will be packed and shipped to your customer. As you can see, the shipping and fulfillment are all done without your input.
Entrepreneurs can track the order's progress from their dashboards at any time. The information is located in the "Orders" tab. Note that depending on the time of year and product type, fulfillment times can vary.
There's no manual fulfillment option, which is a boon for newcomers who are scared to do anything they're not familiar with. Printful will immediately enter orders into the database and prevent any mistakes from happening.
A downside to this is because fulfillment is automatic, you need to hurry if an order must be changed. Usually, there's a slight delay that allows for order changes before the process starts. Reach out to a customer service representative if you miss this chance.
Fulfillment doesn't include shipping, however. Shipping is calculated separately.
For all printing methods, it takes two to five days to complete an order. This period doesn't account for putting orders on hold, and it's an estimate. The printing process can be delayed due to external circumstances, and these are beyond anyone's control.

Shipping
After a product is completed, it takes a certain amount of days for it to reach the customer. This period will depend on where they're located, and the fastest time is two days. On average, an order takes less than seven days to reach a customer.
Non-apparel products, such as accessories, tend to be delivered within five days. Apparel products, such as T-shirt or hoodie orders, have a usual maximum delivery time of seven days.
While some products can be shipped in the same package, Printful usually divides objects into different packages. This decision helps keep them intact and reduces the chance of broken or faulty products. Examples include jewelry, stickers, and blankets.
Shipping times are not guaranteed, and you can contact the company if something is wrong. An expert will try and help you resolve the situation.
Printful is transparent with shipping costs. There's an extensive table detailing the exact costs you can expect to pay if you're in a specific region. The table also includes the shipping price for one product and how much to pay if you're adding more.
The prices include all categories of Printful offers. These reasonable prices are why many consider Printful the best print-on-demand service or at least a strong contender for the top spot.
The table contains pricing information for the following regions or countries:
The U.S.
Europe
The U.K.
EFTA States
Canada
Australia and New Zealand
Japan
Brazil
Other – Worldwide
Worldwide costs are higher, but they're still affordable compared to other platforms competing in the print-on-demand sector.
Users get to set shipping costs according to their situation. You can elect to increase the costs and cover shipping prices or use Printful's rates, which are considered excellent among on-demand services.
Not every platform has integration options, and this applies to shipping as well. There's no need to panic, as Printful has detailed instructions for most popular ecommerce platforms.

Printful Integrations With Ecommerce Platforms
Printful integrates with 28 leading platforms and online marketplaces so you can use it with practically any popular choice. For example, you can connect Printful to your Shopify store, Wish, or Etsy, among many more. The process is quite straightforward and involves creating a new Printful account first.
With your new Printful account, you can begin creating designs and products. You'll then log into your online store and start connecting both platforms. Logging into both accounts is necessary to complete the integration process.
The Printful app will guide you through the steps. Your chosen ecommerce store integration doesn't impact this process and shouldn't interfere.
If you head to the Integrations section of Printful's website, you can take a quiz to find the best Printful integration for your store. The quiz is simple and only requires several clicks to show you the company's recommendations.
For example, you can be recommended Shopify or Wix if you prefer easier solutions. Users who have some technical experience can try WooCommerce or Prestashop as advanced options. The quiz is only a recommendation, so choose what you prefer above all.
If you want to link to eBay, there's a YouTube video guide that shows you how exactly you can do that. The steps go like this:
Register for an eBay account.
Make a Printful account.
Sync both apps.
Decide on shipping costs and other expenses.
Begin marketing and let Printful handle fulfillment and shipping.
Don't forget that while creating a store is free, the platform may require a cut from your sales or charge a listing fee. Check before proceeding.
Printful also lists the advantages of choosing a particular platform. You can make a decision based on this information and see whether you want to use eBay or Wix.
Printful Pricing
Many users manage just fine using Printful's free plan. This plan has all the essentials you need to start selling products, including the design maker, global fulfillment, and mockup downloads.
The free Plan is food enough to allow you to start T-shirt printing without committing yet.
The next plan is the Plus plan, with includes the advantages covered above but also has the following:
Custom mockup maker
Promo maker
Background removal tool
Free accounts can only use preset mockups, but if you subscribe to the Plus plan, you can use your own mockups. The Plus plan costs $9 a month.
The Pro plan incurs $49 monthly fees. This package contains five main advantages, namely:
Etsy keyword scouting
Access to more than 480 exclusive clipart
All embroidery files are digitized for free, originally costing $6.50 a file
Additional Premium images from $1 per image
Carrier-based shipping
While it may seem overpriced, the Pro plan allows stores to save all of their designs conveniently. If that's not all, graphic designers who want to access premium stock images from Getty don't have to pay extra either. These advantages are perfect for those who want them.
Starting a successful on-demand printing business is possible with just the free plan, as the bulk of Printful's essential services are already made available to those who register for an account. An individual making a custom coffee mug for a special event can also place orders without purchasing any plan.
Because there's already a free plan, it's natural that Printful doesn't have a free trial or similar package. Account creation is free, and you can make designs without paying the full price. You only have to pay for the Printful products once they're produced and shipped.
For large stores that require more than what the Pro plan offers, there's the Enterprise plan. You'll need to reach out to the company to find out what the exact price is.

Is Printful Worth It?
The free plan is more than worth signing up for if you want excellent print quality. T-shirts are among the service's best offerings, but there are many others if you prefer.
On the other hand, the Plus plan is designed for those who want some extra features but don't want to pay the steeper Pro plan costs.
Finally, if you want an all-in-one solution and have some design experience, try out the Pro plan. It has a good feature-to-price ratio.
If you own a Shopify store, you have even more reason to go with Printful. It's the number one demand service on that platform. Printing products has never been easier using Shopify as your print-on-demand store.
Enterprise users get to enjoy custom branding on their packages, white-label support, and insider insights not available to other users. According to the company, the reshipment rate is low at 0.26%.
Printful Review – Pros and Cons
Here are some major pros and cons of using Printful for your store.
Pros
Powerful design maker
Automated order fulfillment and shipping
No minimum orders
Free account
Excellent customer support and resources
Many facilities worldwide
Good print quality
Easy to integrate
User-friendly interface
No outsourced labor
Cons
Editing variables takes time
Relatively small product range
Lower profit margins
Limited branding options
Some products aren't shipped everywhere
No print-on-demand company is perfect, and it's not fair to assume Printful is. While there are many happy customers and entrepreneurs, there are some negative user reviews on Printful products and services.
The most common complaints were about customer service, particularly when dealing with long-distance shipping to countries without a nearby fulfillment center.
It's true that Printful focuses more on apparel and some homeware, but few print-on-demand providers surpass its T-shirt and hoodie customization options and quality.
Conclusion
Printful is a highly-acclaimed print-on-demand service plus dropshipping provider. While it has its faults, it remains the primary selection for many entrepreneurs and continues to serve many users. It offers a wide range of products that have been lauded as high-quality merchandise.
Printful FAQs
Is Printful Free to Use?
Yes, you can create an account for free and use its powerful services. However, you'll naturally have to pay for fulfilling orders made by customers of your store.
Is Printful a Drop Shipping Service?
Yes, Printful is partly a drop shipping service, but it's not just the entity handling your product shipping. Its facilities are the ones producing the mugs and parkas you created for your online store.
Can I Use My Designs With Printful?
Yes, if you have designs of your own, you can use them by uploading them to the platform. It's possible to use them as is or perform some modifications. Printful doesn't slap its own copyright on your designs.