What Are the Best Ecommerce Platforms for NFTs?
The NFT craze has taken the digital world by storm. A few years ago, selling a JPG image for over a million dollars seemed laughable. But that's what's happening now. The digital creator known as Beeple auctioned off an NFT artwork for over $69 million at Christie's, becoming one of the world's most well-enumerated living artists.
But the NFT space isn't only for artists. The rise of online trading has opened the door to a new way of running an e-commerce business. In this article, we'll explain what NFTs are, what makes them valuable, and how you can choose the best NFT platform for trading.
What Are NFTs?
Non-Fungible Tokens (NFTs) are similar to cryptocurrency. Both represent digital art assets, but an NFT is an original artwork, and the owner is the only person who has property rights over it. There's a wide variety of NFTs available. For example, music, art, and even Tweets can fall under the banner of digital tokens.
However, the definition stretches to include anything that's one-of-a-kind. Physical assets such as real estate also count as non-fungible tokens and non-digital collectibles such as event tickets. For the purposes of this article, the phrase NFT will refer to mostly digital items. NFTs are different from most downloadable content because you gain ownership over the piece of art once you buy it. Plus, you are protected by copyright and digital representation laws.
How Do NFTs Work and Why Are They Valuable?
Like other forms of cryptocurrency, an NFT is a data unit saved on a blockchain, an online ledger that's the backbone of the crypto sphere. The tokens are stored on the Ethereum blockchain, which works similarly to Bitcoin. Collectors and businesses usually use Bitcoin to buy and sell NFTs, but more blockchains are becoming compatible with token trading.
The actual value of the tokens lies in their uniqueness. If I give you a dollar, and you give me a dollar bill in return, it's as if nothing's happened. The currency is of equal value. However, you can't give away an NFT work the same way. Each token is encrypted with additional text and data, so no two are the same. Two seemingly identical art pieces have different information embedded in them, so they are not interchangeable. It is this that makes them valuable.
Why Should You Invest in NFTs?
During recent isolation times, the popularity of many types of crypto assets skyrocketed. However, as digital property represents a lucrative avenue for artists and e-commerce businesses, many people wonder whether they should jump on the bandwagon.
There are several reasons why NFT trading can be a lucrative investment. First, physical artwork has long been held in high regard, and galleries and individual collectors are ready to pay a large sum of money to get a particular piece. If the digital market continues to mirror this model, then the price and appreciation for NFTs will only continue to rise.
With the online community growing each year, NFTs are opening the e-commerce industry to an ever-increasing pool of potential customers.
Thanks to "smart contracts," which are commands and information built into the blockchain, you'll get paid whenever someone reuses your art.
As with any investment, there are some risks involved. There's no set way of determining whether your NFT will do well on the crypto market or flop. Trends come and go, and what's worth a lot of money today could lose its appeal tomorrow.
It's a developing industry and has room for growth which holds promise. When buying a token, check out the following details to make sure you're getting your money's worth:
Who's the creator of the item?
What's the token's uniqueness?
How easily can you use it to make more profit (i.e., people paying to reuse or repurpose the piece)?
Now that we've covered the basics let's look at the three best platforms to help you turn NFT trading into your next e-commerce venture.
What Are the Best NFT Marketplaces?
Binance NFT Marketplace
In June 2021, crypto giant Binance launched its official NFT marketplace. It has quickly become a popular platform, amassing over one million assets and collaborating with over 800 digital artists.
The platform is powered by Binance's ecosystem and allows users to easily create, buy, and sell non-fungible tokens. It uses both the Binance Smart Chain, which underpins its ecosystem, and Ethereum for creating items. This makes moving your token from one blockchain to the other quick and convenient.
It's a company that values security and privacy. You can create your account by simply using your email address or phone number. Then you'll have to verify your identity. Binance has three verification steps: basic, intermediate, and advanced. These measures protect users from identity fraud, which is always a risk in e-commerce.
Whenever you buy NFTs, you'll need cryptocurrency. To streamline the entire process, Binance provides you with a personal crypto wallet you can use for all transactions on their site. However, as it's not the most secure wallet out there, it is helpful to set up a different crypto payment option with another provider. Popular wallet options include Trust Wallet, MetaMask, and SafePal.
You can also buy crypto directly from the Binance website, so you won't have to switch between several pages to get started. The "Buy Crypto" tab on their homepage presents users with several ways to gain currency. These are credit card transactions, bank transfers, and third-party services. Of course, you should go with what works best for you, but most new users use credit or debit cards since it's the most straightforward method. Once the payment goes through, your crypto will appear in your e-wallet.
You can purchase NFTs in two ways: bidding or paying a fixed price. Before making the purchase, you can select a token that interests you. Then, a page containing relevant information about the asset will appear, helping you make an informed decision. When the sale is complete, the token is stored in your Binance wallet, and you can quickly transfer it to any other e-wallet you've set up.
Users can decide between auctioning off their tokens or selling them at a fixed rate like buying.
A great perk is that it allows you to create NFTs directly on the website. Then, upload the tokens from either the Smart Chain or Ethereum blockchain and watch potential customers flock to make you an offer.
A great perk is that Binance allows you to create NFTs directly on the website, and the process only takes a few minutes to complete. When you've uploaded your content, you'll have to add an accurate description so that it can be successfully minted. Minting means that a piece of art is encrypted correctly with the necessary data, is part of the Ethereum blockchain, and can be traded and resold like all verified NFTs. Note that all Binance transactions come with a 1% fee, which applies to NFT creation.
There are no limits to what you can find or list on the platform. Their categories range from entertainment and gaming to art, sport, and collectibles. Sell anything from sports tickets and autographs to photos and music videos. If you've made some LeBron James fanart in the past, the market might be primed for you to mint it and upload it as an NFT.
Pros
Free to create a Binance account
The platform is easy to navigate
Low transaction fees
Works with both smart chain and Ethereum blockchain
Possible to set up different wallet solutions
Cons
A relatively new market
Not the most secure wallet
Rarible NFT Marketplace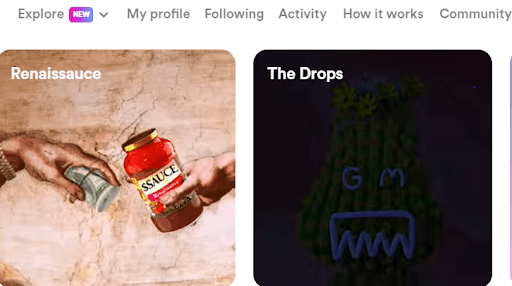 Rarible lets its users sell, buy, and create non-fungible tokens in an all-in-one marketplace. It comes with multiple asset categories, including photography, music, domain names, and gaming items. Like Binance NFT, the platform operates on a bidding and fixed-price system, which is excellent for offering a different rate than the one listed.
To simplify payments, Rarible has introduced MoonPay, a service that makes your online wallet compatible with the platform's interface. However, as you can't set up a personal crypto wallet on the site, you can only use Rarible if you already have a wallet with a third-party provider. Rarible supports Coinbase, MyEtherWallet, Torus, Portis, and Wallet Connect.
To protect your transactions, you'll need to answer several security questions before activating MoonPay. Since it supports more than 20 cryptocurrencies, including DAI, USDC, and RARI, the company has amassed a loyal user base. If you're still unsure about dealing with crypto, there's also the option of using your credit or debit card or Google Pay. The 2.5% buying and selling fee is a drawback. The cost can add up when your digital tokens start generating more traffic. It's also possible to connect your Rarible page to OpenSea, another reputable marketplace, and share your artist profile with a broader audience. If you're running an e-commerce business, this is an excellent opportunity to reach prospective buyers for digital property.
You can also change the price of your listings at any time for no additional cost. It's an invaluable feature, especially when you're working in a fast-developing and constantly changing industry where prices can plummet at any moment.
Not only does the platform have protocols to safeguard ownership rights over NFTs, but it also allows users to report any copyright infringement that may occur. They've also established a loyalty program, so you'll be compensated whenever someone repurposes or resells your tokens.
As you become more active on the site, you'll become eligible for Rari tokens, the platform's in-house currency. Users are rewarded based on their activity stats, and holding these tokens allows you to participate in all major decisions concerning the website's operation.
Pros
Royalty program
Change your pricing at any time
Integrates with OpenSea
Lets you use an existing wallet
Cons
Steeper transaction fee
Tokens are inaccessible unless your wallet is connected
OpenSea NFT Marketplace

Operating on the Ethereum blockchain, OpenSea supports a variety of digital items, including artwork, domain names, and trading cards. They have also started integrating with the Flow and Polygon blockchains to expand their user base. The platform is beginner-friendly, and users can create original content and mint their NFTs through OpenSea's services.
You don't even have to open an account to become a user. Connect your crypto wallet and unlock the site's function. It's important to mention that OpenSea doesn't allow credit or debit card usage or bank transfer. If you're a collector who's uncomfortable with cryptocurrency, it might not be the best option. Crypto wallets compatible with the platform are Bitski, Formatic, Torus, Coinbase, Trust, and more.
The marketplace boasts over four million NFTs organized into more than 200 categories, making up for the 2.5% transaction fees. Based on the value of your digital collectibles, you'll also be paid royalties. Digital artists benefit when they receive royalties for their work because they can use the payments to stabilize their online income streams.
One of the most popular NFT categories the platform has is virtual worlds. You can trade tokens in virtual reality and even buy virtual land for your NFTs. Among OpenSea's more notable clients in this category is the Somnium Space project, a metaverse on the Ethereum blockchain.
There are various selling options:
Fixed-price
English auction
The seller can decide to accept the highest bid offered for his token:
Dutch auction
The price you've chosen will start to decrease over time. You can either accept an offer from another user or wait to see if a higher bid will come in. When the price drops to match a customer's bid, they will get the token.
You can group up to 30 items together and sell them through a single transaction. Then, when you pair lower-priced tokens with more valuable tokens, you'll automatically raise their price. This is also an excellent way to avoid paying several transaction fees.
Pros
Wide range of NFTs
Several selling methods
Users are paid royalties
Users can sell bundles
Cons
No credit card or bank transfer support
Final Thoughts: What Are the Best ECommerce Platforms for NFTs?
When you first get into e-commerce with NFT trading, things can seem a little unclear. There are many factors to consider, including whether you want to create original tokens, what types of digital items are available, and crypto payment processing.
Our top pick to help you break into the NFT world is Binance. First, it's straightforward to set up an account, and the interface makes it easy for new users to kick-start their digital trading business. The minimal transaction fees and security measures are also significant benefits.
In the second place, we have OpenSea. Their range of categories ensures there will always be a place on the market for the tokens you're listing. In addition, the different selling options, which include offering bundles, mean that you'll be able to earn more money in less time.
Before you commit to a specific platform, make sure that it has a sizeable audience for your types of tokens and that it serves your e-commerce goals.